A pinch of salt – Gandhian era and now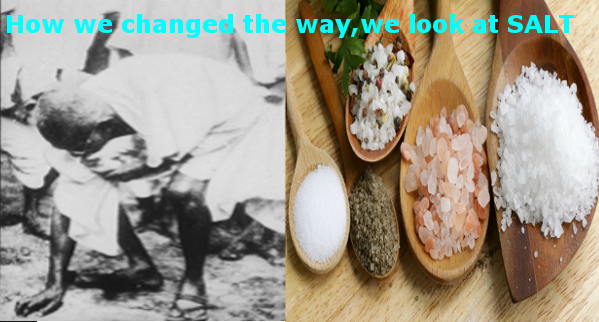 A pinch of salt- Gandhian era and now
Salt first came into limelight during the Salt Satyagraha which had started on March 12, 1930, with the undertaking of the Dandi Yatra (Dandi March) by Gandhiji.This lasted for 23 days.
The triggering factor for this movement was the British monopoly of salt trade in India and the imposition of a salt tax. According to the contemporary British laws, the sale or production of salt by anyone but the British government was a criminal offense. So, while Salt was readily and freely accessible to laborers in the coastal areas,they were forced to pay money for it. Since Salt is needed by all, irrespective of geography, class/caste, religious beliefs, and ethnic backgrounds, 
Mahatma Gandhi
 chose it as the focal point for the Satyagraha.During this movement Gandhiji made salt from Sea water and encouraged other people to do so as well,leading to independence.
So we totally owe our Salt to the Father of the nation.
Post independence taking things ahead in the realm of salt was Tata Chemicals which launched Tata Salt in 1983 to provide iodine in salt to combat Goitre which had become widespread in India.
Since then the brand has consistently grown and now boasts of various sub brands like-Tata salt lite(low sodium salt for maintaining blood pressure and weight),Tata Salt Plus(Iron Fortified for combating iron deficiency specially amongst women), Speciality salts like Tata black salt and Tata rock salt.Tata salt ranks No.1 amongst all other salt brands in India notably Annapurna,Saffola,Aashirwad,Patanjali,Catch,Nirma.
Since salt is a low involvement category most companies tend to spend very little on packaging however Tata salt has not only grown vertically but has grown horizontally in its salt category.It has managed to reinforce health beautifully through its packaging rather than making it a pure vanilla offering like other brands.
Some salt trivia
Salt finds place not only in consumption of food but also in marriage ritual.Gujaratis purchase salt as the first item, in marriage preparations.
In old Egyptian times salt was even used for mummifying body.
Only 5% of salt produced is used for consumption.Rest all finds industrial usage
Salt in foodstyling
As a foodstylist when I style food salt sometimes is my biggest asset and sometimes an enemy.When I cut potatoes and apples and want to prevent its oxidation or I want to tenderize a piece of meat the presence of salt is something I so deeply cherish.Other times when I have to keep food looking fresh for a long time salt plays a spoil sport.So I use salt wisely on shoots. Salt due to its minuteness and dissolvability on food makes it difficult for a stylist to work on.So over the years ,here's my solution to the problem.Choose food items where one would by default use salt so that people may connect with it or show salt in motion.The pictures given below shall give you an idea what I mean by the same
Here's 
your link
 in case you wish to try making salt yourself 🙂 .For a behind the scenes look at the TV ads I have foodstyled for,
click here
.Thank you for reading this article.I would love responding to your comments.Wishing you a Happy Independence day.