Curd paradise for Krishna Janmashtami's Dahi handi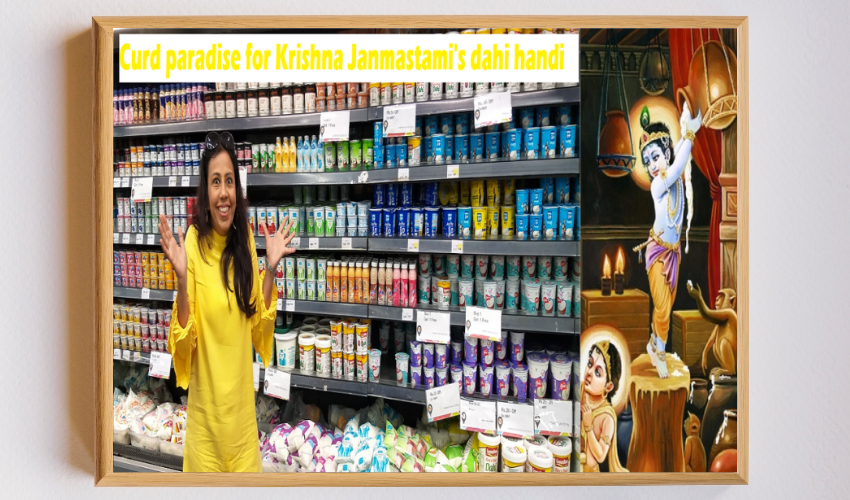 The beautiful festival of Krishna Janmashtami commemorates the birthday of Lord Krishna. The festival which is also referred to as the Gokulashtami or Govinda in Maharashtra, is celebrated with great devotion and enthusiasm by the devotees. On this auspicious day, while some devotees fast and pray until midnight when Lord Krishna is born, some people create an adorable cradle of flowers in the temple and place a miniature of Lord Krishna in it for celebrating his birthday.

My mom with Krishna
My mother too is a very strong Krishna devotee. Her life revolves around krishna.I have always witnessed her fast till midnight and then sing songs in praise of Krishna and do arati before she breaks open her fast.This ritual I saw all my life till I was in Kolkata.However, when I shifted to Mumbai the festival took a totally different form for me.The household devotion I had seen all my life was complemented with street side visuals of Krishna's enthusiasts making a human pyramid and breaking open the dahi handi. So, if you happen to be in Mumbai or Pune during Janmashtami, be rest assured that you will witness the human spectacle of this festival in full glory throughout the city.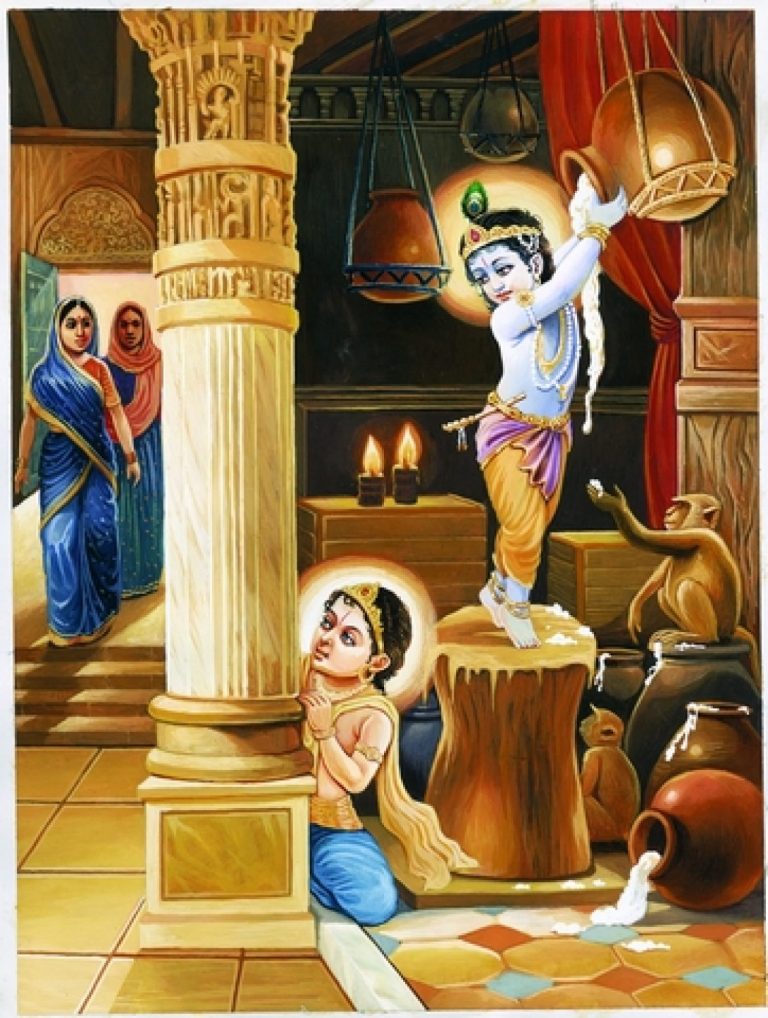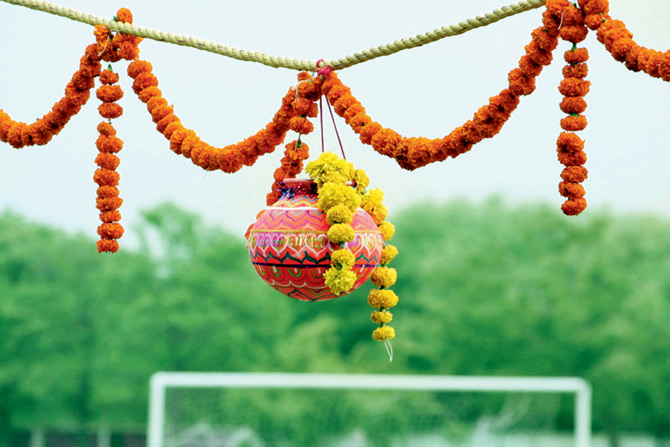 With Krishna Janmashtami just around the corner, the city of Mumbai gears up for a grand Dahi Handi celebrations. It was believed that Lord Krishna loved eating dahi and makhan. So, during the Dahi Handi festival, boys (Govindas) who participate in this skilful sport, make a human pyramid to reach the handi filled with curd, milk, butter and dry fruits and break it with their hands, just like Lord Krishna and his friends did. Today, even young women participate in this spectacular feat as Govindas, for celebrating DahiHandi.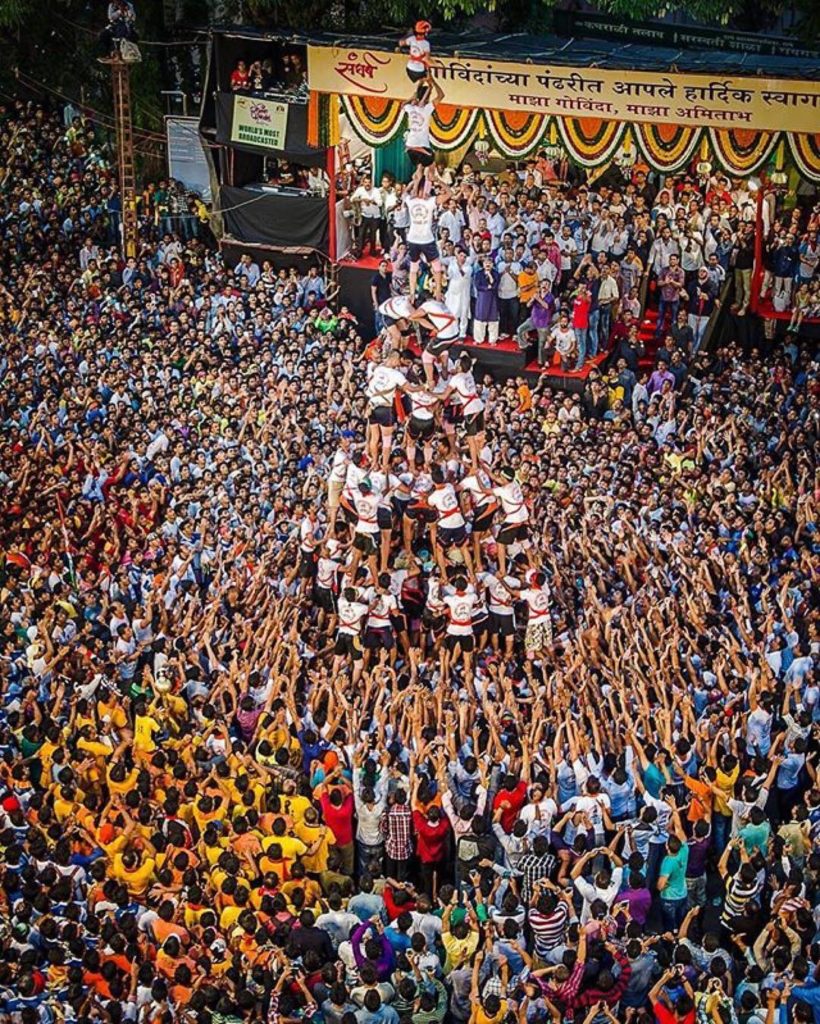 With the changing times the age-old traditions of dahi handi too has evolved. Back in those days, during the time of Lord Krishna, Dahi was freshly made at home by the women of the house. Women in those days made dahi in earthen pots by adding a table spoon of curd to the lukewarm milk in the handi, covered it with a clean cloth and then placed the handi in warm spots in their homes to let the dahi set. This entire procedure of making dahi at home nearly took 8-12 hour in a day.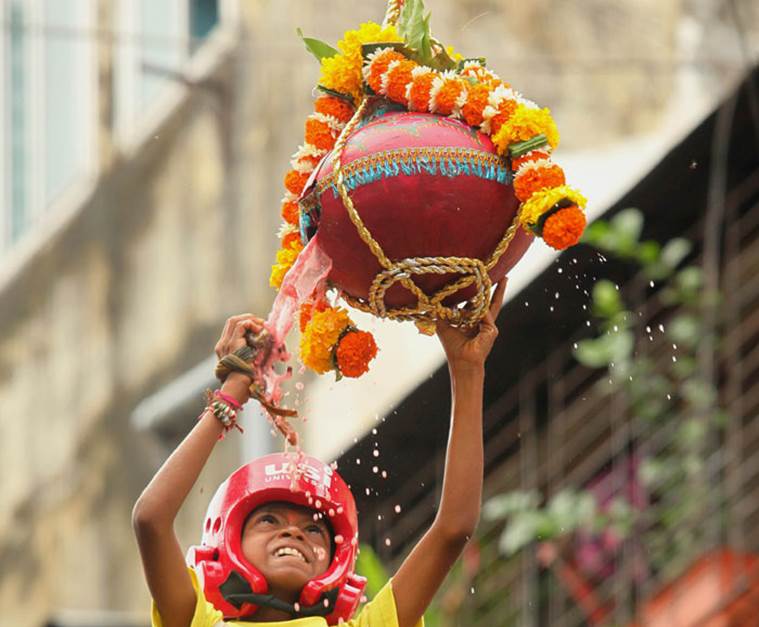 The distinct flavour, texture and smell of the dahi freshly prepared back then in the earthen pots are far different from the modern packaged dahi that we get today in the market. Since the modern women of today have little or no time towards making dahi, a number of Food FMCG companies have come out with a wide range of industrialized dahi for consumers. Today, the simple, traditional dahi is given multiple new avatar right from slim dahi to probiotic dahi to frozen yoghurt and flavoured yoghurt. These new reincarnations of dahi which is sweet, fruity, creamy, light and slim have gained great popularity in the Indian market. Who would have ever thought that simple plain dahi would over the years evolve into a multi-flavoured and multi form one with revenues generating from it, running into crores.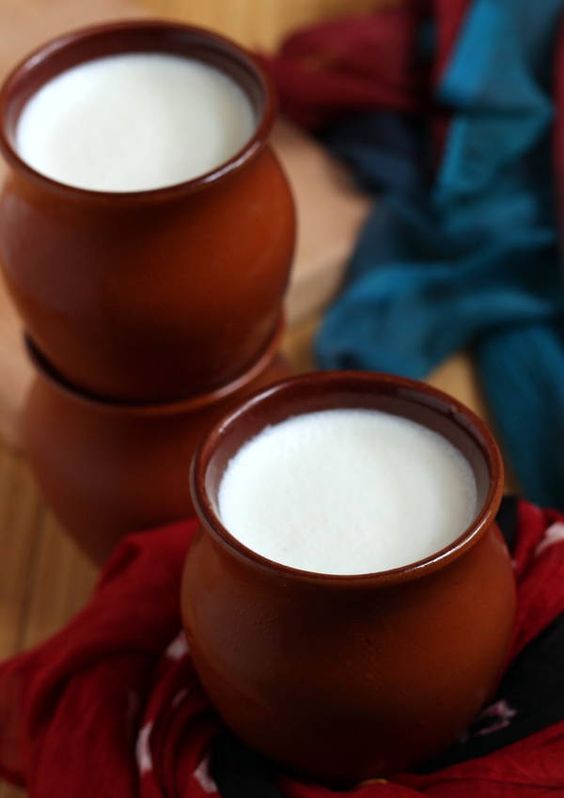 Dahi or yogurt as we all call them, is now more of a lifestyle product than a part of our regular meal.Dahi has always been known to be a great food accompaniment due to its cooling nature.It is believed to aid in digestion. It is also known to give a great deal of calcium and protein for people, post workouts. No wonder in a health fascinated nation like India, the dahi industry is witnessing a massive growth.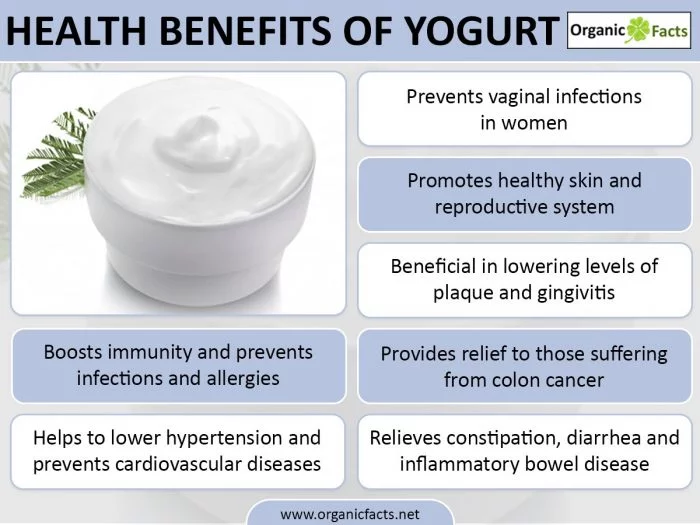 For gaining better knowledge of the industry and to explore the variety of options available to consumers, I personally decide to visit a few supermarket stores around me. To my observation, people are today spoilt for options when it comes to selecting of yogurt.
Having explored many options, I have today personally curated an entire list of different yogurts available in the market. Let's take a closer look at these amazing variety of delicious yogurts offered by different brands across various stores and its various makeovers like makeovers of Krishna (also called behroopiya).

1.Greek Yogurt/Full fat Yoghurt
– Greek Yogurt is a thicker and creamier variant of yogurt. It has higher fat content as compared to normal dahi. It has denser consistency than the regular ones because after fermentation, the liquid whey is strained off, thus reducing the water content in it. Nutrition wise, Greek Yogurts is high in protein. Although there are a number of brands offering Greek yogurt, but each brand, names and markets its product differently.
Brands selling Greek Yoghurt
Amul,Chitale,Britannia dahi/Yoghurt fall under this category. They have no slim/low fat variant. Mother dairy sells Greek yoghurt in the name of Ultimate dahi. Epigamia calls it Greek yoghurt. Gowardhan Greek Yoghurt is sold as fresh and thick dahi.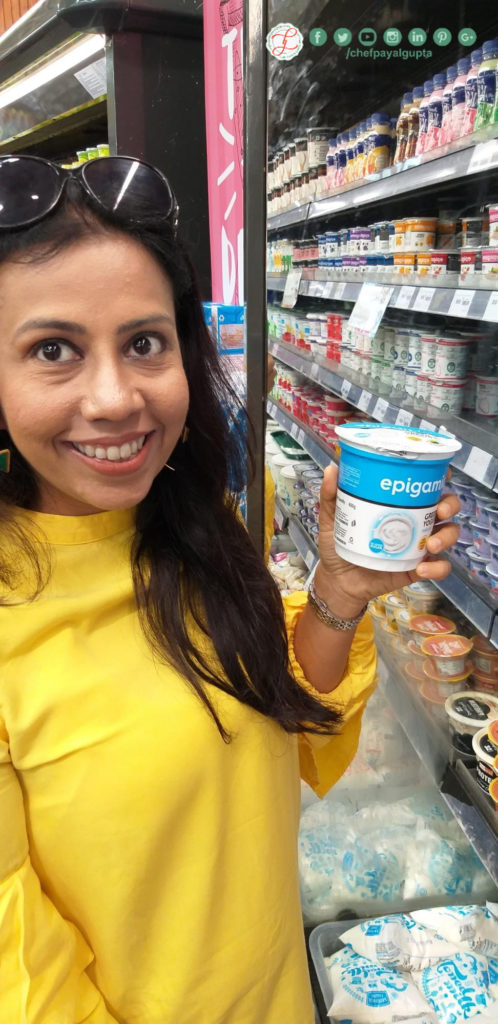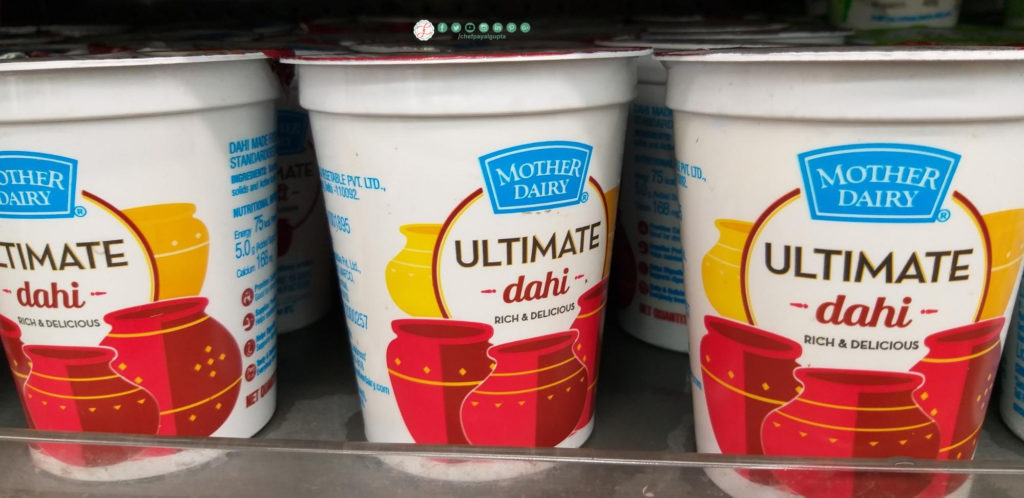 2.Mid fat/Normal Yogurt
– Plain or natural yogurts are mostly mid fat variants of yoghurt either made from toned milk.
Brands selling Normal Yoghurt/Plain Yoghurt
Mother Dairy and Nestle are the top national brands offering this variant of yogurt.While Mother Dairy calls it the classic dahi,Nestle calls it a+ Nourish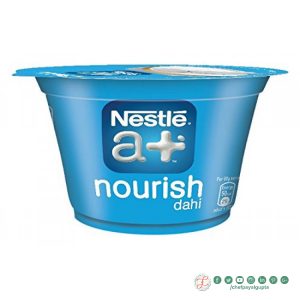 3.Low fat yogurt/Slim Yoghurt
-Low fat yogurt is a variant made by fermenting very low-fat or skimmed milk. It is a healthy alternative to people who prefer consumption of yogurt with low fat and low calorie and are willing to compromise on the creaminess of their product.
Brands selling low fat yoghurt
While there are a number of brands offering low fat yogurt, Nestle and Mother Dairy their variant of low fat dahi as Slim dahi. Sarda farms also sell low fat dahi and Gowardhan just labels its dahi as that made from toned milk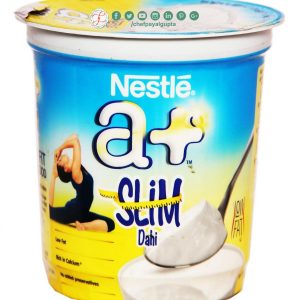 4.Lactose free yoghurt sold under the name Artisanal Yoghurt
With increasing number of people intolerant towards Lactose(a sugar found in milk) and unable to savor their dahi we now have brands in the market that addresses this problem and makes dahi within the reach of all the people
Epigamia was the first one to launch a lactose free dahi for people. It is a brand that has given yogurt a contemporary healthy makeover through its innovative addition.Apart from being lactose-free, their lactose free dahi also called Artisanal Curd is said to have more probiotics than any other curd and further contains two strains of probiotics – Lactobacillus Acidophilus and Bifidobacterial that is said to reduces abdominal discomfort.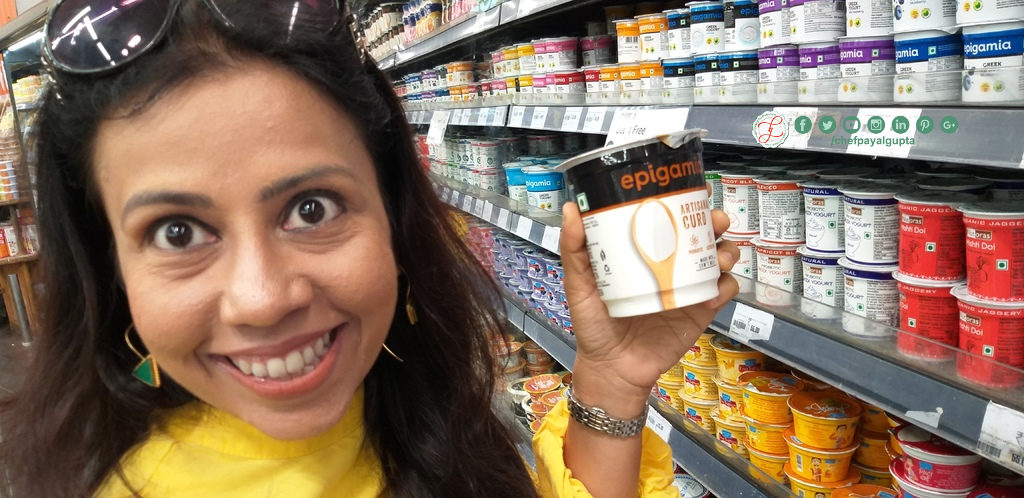 –
5.Sweetened Yogurt/ Misti Doi
Sweet to taste and rich in protein, Mishti Doi is a kind of yogurt, quite different from the regular ones. It is a popular Bengali sweet dish served as a dessert after meals. Rich,creamy, buttery and cream coloured, this dahi is like no other one would have ever eaten.
Brands selling Mishti doi
Mother Dairy, Milky Mist, Nilgiri, Epigamia and Gowardhan are the popular brands currently offering Mishti Doi as one of their yogurt variants. While, Gowardhan's range of Mishti Doi is made from 100% pure cow's milk with no added preservatives or artificial colour, offering an authentic creamy taste, Mother Dairy's range of Mishti Doi is made from pasteurized full cream milk that offers rich creamy taste. For those looking to indulge in a slim variant of Mishti doi, Mother dairy is offering that as well. Mother dairy also has a Mango flavoured Mishti doi called Aam doi for those who love fruity flavours in their Mishti doi. While for those who looking to indulge in authentic Bengali Mishti doi, then Sweet Bengal is the right place for you to head to, pamper your taste your buds.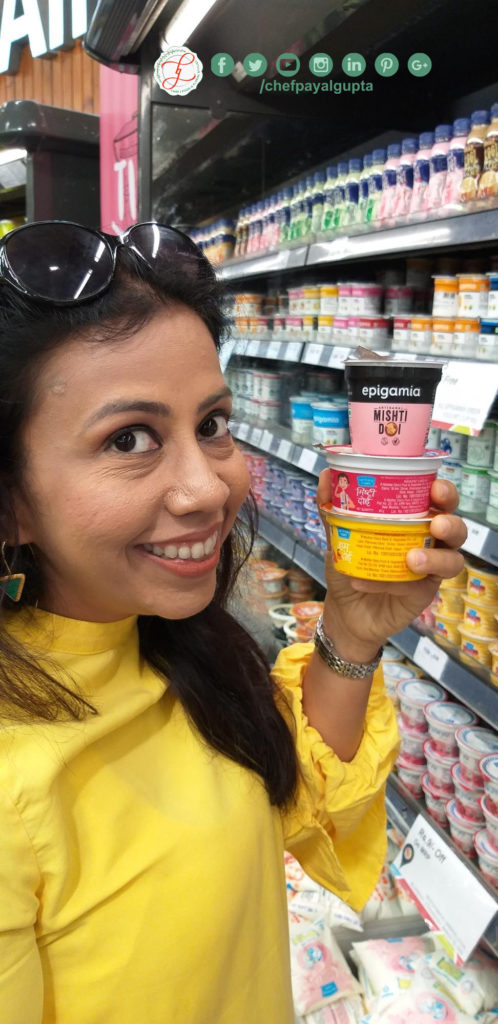 6.Probiotic dahi
–As the name suggests, Probiotic yogurt is a variant of curd that is rich in probiotic bacteria which helps keep the gut healthy. This variant of yogurt is perfect for those looking to improve their digestive system.
Brands selling Probiotic dahi
Nestle sells its probiotic dahi under the name Actiplus, while Amul, Sarda farms, Prabhat, Nutoras and Mother Dairy simply call it probiotic dahi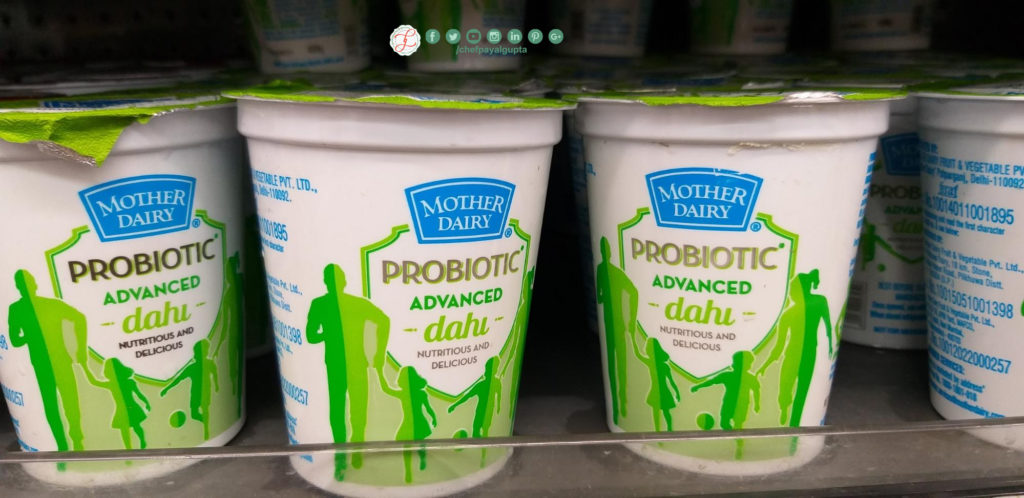 7.Flavoured Yogurt
– These variant of yoghurts are silky, smooth and loaded with the goodness of fruits.Please note that their texture is lighter than a mishti doi
Brands selling flavoured yoghurt/Dahi–
I witnessed, you will find a wide range of flavored yogurts from different brands in the supermarket. With each brand having its own USP for flavoured yogurts, it is probably hard to decide which one is the best.
While Nestle offers A+ Grekyo Greek Yoghurt in multiple flavours, Britannia offers Mango, Strawberry and Vanilla flavored yoghurt. In fact, Nutoras too offers multiple flavored dahis. Amul sells its flavoured yoghurt under the name Flaavyo. While Epigamia too offers a wide range of flavoured yogurt which is refreshing and has no added colours and preservatives in it. They offer contemporary flavours like Mulberry, Green Apple, Wild Raspberry, Vanilla beans, Honey Banana etc as a part of their offering.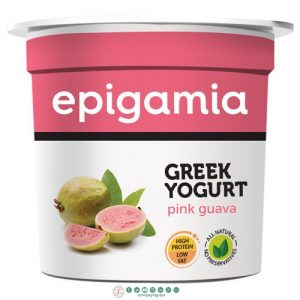 8.Flavoured Yogurt with granola
A vast majority of people today are breakfast deprived due to their work schedules.They seem to encounter a host of health issues. So, to counteract that, yoghurt with cereals was launched.This combination offers wholesome nutrition and is a power breakfast within itself.
Brands selling flavoured yoghurt/dahi
Epigamia is probably the only brand offering flavoured yogurt and granola which makes a perfect healthy alternative for mid-day snack craving. Available in flavours of Strawberry, Mango and Vanilla bean, it is probably the best snacking option for health-conscious consumers.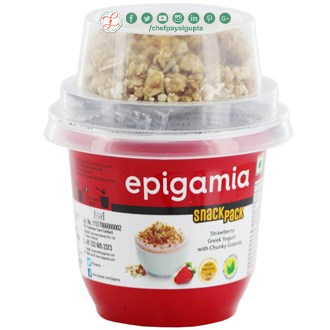 9.Frozen Yogurt
–Frozen yogurt/dahi is a blend of yogurt, milk, and cream with added flavours and sweeteners. It is a delicious healthy treat, low in calorie and low in fat. Perfect substitute for those who crave for desserts after meal. With 50% less fat and juicy chunks of fruits in it, makes it a refreshing blend of soothing indulgence. They can be topped with wide a variety of nuts, fruits and other toppings to increase the yumm factor in them
Brands selling frozen yoghurt/dahi
Brands like Cocoberry, Red Mango, Kiwi Kiss and Yogurberry sell frozen yogurt/dahi through exclusive outlets that only stock and sell their respective brand of yogurt.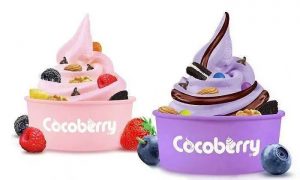 Having explored such vast variety of yogurt in the market, I would surely say it was the most overwhelming experience I have ever had till date. In fact, with such humongous range of options available in the market, probably even Lord Krishna would be spoilt for options when it comes to selecting a flavour of indulgence from the market.
If you would like to try making curd at home.Here are two helpful resources for you.
Let me know how it goes.
Dear foodie,
Thanks for reading.Let me know any feedback,by commenting below.It would be an honor,to have you in my network.Feel free to connect with me if you're active on these networks.
Facebook , Twitter , Pinterest, Linkedin, Instagram ,Youtube , Google+ and Behance