How social media influenced your #Food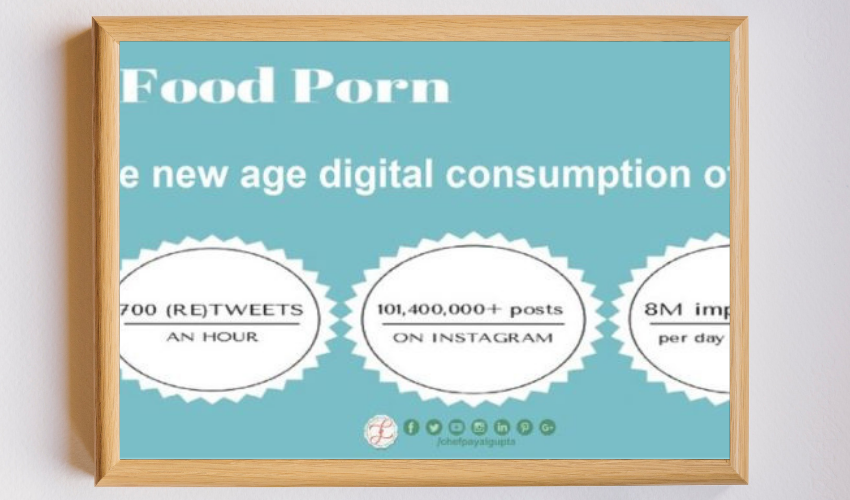 I.Accidental discovery of the Hashtag
When I first heard of food porn during a shoot , I didn't think much of it. If anything, I thought it was kind of a joke or a term that the agency creative coined himself (believing that he was trying to bring in some humor during the shoot).Turned out that food porn has a huge following.As I typed the hashtag "#FoodPorn" 132,148,940 listings pop up(mind boggling 9 digits).By the time you read this article,it would grow by a few thousand more. What has launched on social media and,in countless text conversations across the world, has spawned a niche segment that is dedicated, not to picture-sharing but to pictures of food.These pictures are used as an effective marketing and advertising tool for restaurants,since the restaurant's patrons effectively become its ambassadors,enabling user engagement.
II.So what exactly is this food porn?
Food porn is a growing culinary and social phenomenon that is very much in vogue now.It's a phenomenon that has been seized upon by "foodies" who now use social networks to share photos of food with their friends.Though, originally the word "Porn" referred specifically to erotica,but in the language of food "Porn" presents a world where everything is better than reality. Porn packages up a part of life,into a shiny fantasy package ,that most people crave for in their life.
III.Origins of Food Porn
The first use of "food porn" comes from the feminist writer Rosalind's 1984 book Female Desire.In her view, Food porn was about producing images of food that arouse sensations of physical pleasure in the same way as pornography arouses sensations of erotic pleasure.
It was referenced every so often for the next two decades,by food writers and chefs.However it didn't take on its current meaning—food photos shared through social media—until the 2000s. The photo-sharing website Flickr launched a "Food Porn" category in 2004.By 2005, it entered the Urban Dictionary, "Close-up images of juicy, delicious food in advertisements." Used in a sentence: Oh, that McDonalds ad was like food porn. I want a Big Mac sooo bad. In recent years, people apparently have dusted off Rosalind's original association between food & sensuality and added a hashtag; that is how the concept of food porn got introduced to social media.
Above : A still from my foodstyling project, for a Cafe ad IV. So why is Food porn gaining momentum across the world The answer to this is clearly embedded in our lifestyle.We are growing up in that digital world and have formed into a society that's so accustomed to sitting in front of a screen and typing in isolation for majority of the day. Though isolated we're secretly craving for the community feel and food is also allowing us to access the globe.So we can find out what harissa is made with and how to prepare something with it, in two seconds on our phones without being in physical proximity with someone. Apart from that the desire to know it all(appear as an expert)/be an influencer is a part of most of us today.Food porn helps us achieve that. Food porn= Signal of education, of knowledge, of income and to create a feel of belonging to a community.
Above : A still from my food styling, for a cooking oil ad Another reason for the rise of food porn is Eating with your eyes.Pleasure for the eyes is as important as ,pleasure for the taste buds. Showing what we eat, a given brand, a type of food or the place in which we are eating is a way of staging and describing ourselves.This phenomenon has been intensified with the advent of image intense social media platforms such as Facebook, Instagram or Pinterest.I frequently post my culinary designs there too,let's connect on those platforms as well.Food Porn helps us to describe ourselves better and get accepted in our "DESIRED"community through the medium of food. The marketers perspective : The number one catalyst for targeting millennials is visual content. It is a direct highway to their heart.Millennials respond well to foodporn, they also run social media. They're the ones that find eating trendy and stylish, more than any other generation and enjoy posting about it.Social media is definitely changing the way millennials interact with food.
Above : A still from my food styling, for Maggi ad.
V.Food porn and A classic example of how 'BirdsEye' treated instagram posts as currency
"Instagram and many other social networks have a great role in the shoppers' path to purchase.People are more likely to respond with desire when shown pictures of food, than they are from a review/a menu or a logo.Birds Eye brand came up with a campaign with a London based restaurant,using this very logic.This London based,restaurant "The picture house" got in on the act by inviting customers to pay by pictures, not by money! Customers were thus asked to take a picture of their dish and then publish it on Instagram with the #BirdsEyeInspiration hashtag .The activity was the digital and experiential arm of a wider campaign to promote the new range of Birds eye,which incorporates TV and a three month sampling drive.
The new concept was the outcome of a research by Birds eye that showed that 52% of people regularly take pictures of their meals and 11% take at least one picture of their food a week, while 9% are unable to go a day without capturing what they're consuming.They wanted to tap into the trend,and create a new reason for people to talk about, and sample their new products.
Above : A still from my food stylist project, for Mother Diary ad.
VI.The future of food porn
As we advance digitally in the future food porn will certainly rise due to rise in membership of the virtual community.The desire to appear savvy,educated and be appreciated amongst peers will cause this activity to shoot up. Impacts on the food markets
Both the above presents itself as a big opportunity for FMCG companies to diversify their food portfolio and grow.No longer will companies be able to be sloppy about food development and new launches as things change more rapidly in the digital world and people are more demanding
The way big FMCG companies market their products will change as now their audience are also widely on facebook,instagram,and pinterest.The age old way of making TVC's and putting up hoardings will cross over to smarter advertisements for the smarter generation
It also helps restaurants and QSR's to attract more footfall as people in the same community like to have the same experience of food.So all this means more business for sure for most.
It shall also make exchange of recipes amongst different communities easier globally and we shall see emergence of fusion food globally….Food will become an open source and will not BELONG to anyone anymore
Above : A still from my food stylist project, for Amul Shrikand ad.
VII.From a Food stylist's perspective
Foodstyling and Food Porn are interlinked at a deeper level.Food porn is mostly food seduction. For showcasing this seduction the food needs to look "Cheesy","Oozy" or "Melty" so mostly there needs to be an oomph factor in food.In comparison styled food stresses on food perfection so in that sense 'Foodstyling' is a step before 'Food Porn'.The styled food will give the impetus to people to try new food which in turn cause them to experiment with food and circulate food images and enlarge the web of Food Porn.
Above : A still from my food styling, for Patanjali Ad. So as the business of FoodPorn increases so will the business of Food stylist and both are here to stay and grow.So the next time,you sit down for a meal,eat a little with your eyes too. Thank you 🙂 for reading this article.I would love responding to your comments.Interacting with people passionate about food,makes my day. I am available to connect as " chefpayalgupta " on all social networks.Links in comment section.