Chef Payal's Top 5 must have Eid Desserts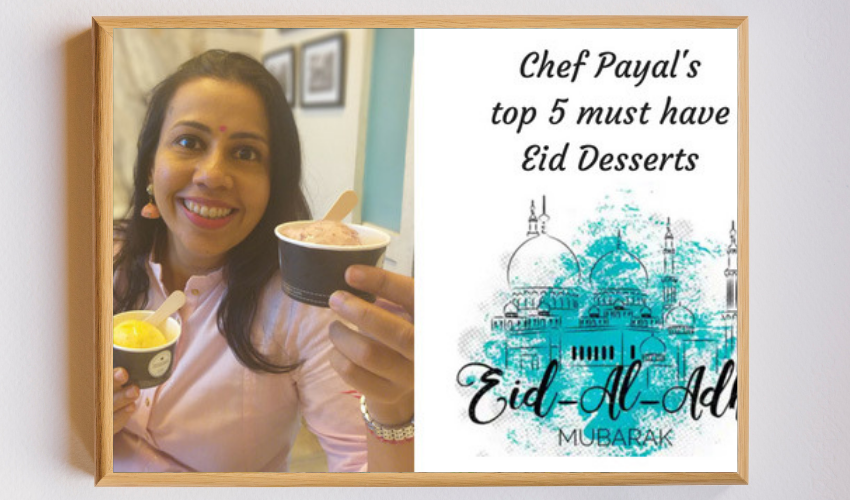 Eid special Dessert trails in Mumbai Eid is a festival celebrated with prayers, get-together of family and friends, and a mega traditional feast. As any traditional Indian festival is not complete without desserts, celebrations of Eid too are never complete without the indulgence of a delectable range of traditional sweets and desserts. So, let us today on this auspicious occasion of Eid-Ul-Adha (Bakra Eid) which is a sacred festival of sacrifice, spread the cheer of festivity with a dash of sweetness. Here is a list of some culinary delights that are worth trying, on this festival of Eid. This post is a shout out to all the dessert lovers out here looking to celebrate the festival in an authentic way!
1.Phirni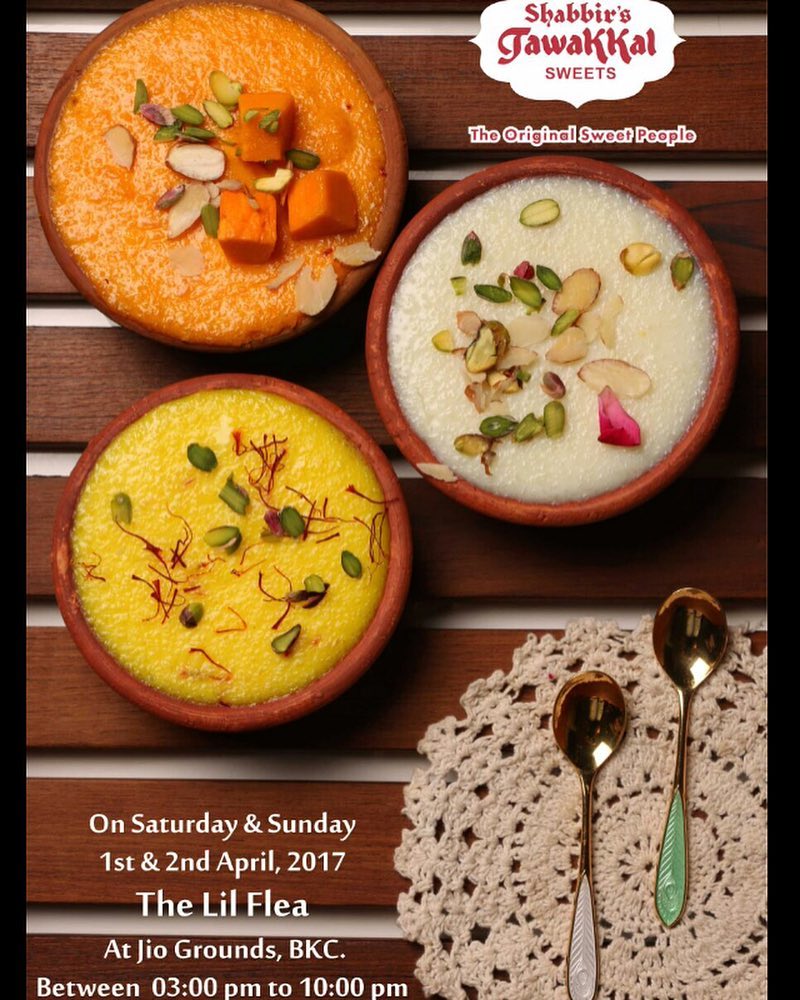 Phirni which is the most delightful Indian dessert, is surely a dish that needs no introduction. It is probably the most craved for dish, enjoyed by people of all faiths during this holy festival of Eid and Ramzan. Phirni is a sweet dish made of ground rice, thickened milk, and garnished with loads of dry fruits that gives it an authentic flavour. Satiate your sweet tooth craving with this creamy dessert of Phirni, specially curated for this special occasion and enjoy the varied flavours of phirni.

Location-Savor your phirni in Tawakkal Sweets which is one of the most loved sweet shops located at Bohri Mohallah. Tawakkal is a mithai shop severing delicious Indian sweets ranging from Mali barfi, Dry fruit barfi, Gulab jamun to signature delicacies like the Phirnis.Their phirnis come in various flavours from Mango to Saffron to Sitaphal and many more. The shop has a live counter offering delicious range of desserts and delicacies till late in the evenings during festive seasons. Have a glance at this amazing dessert served here at Tawakkal.
2.Mawa Jalebi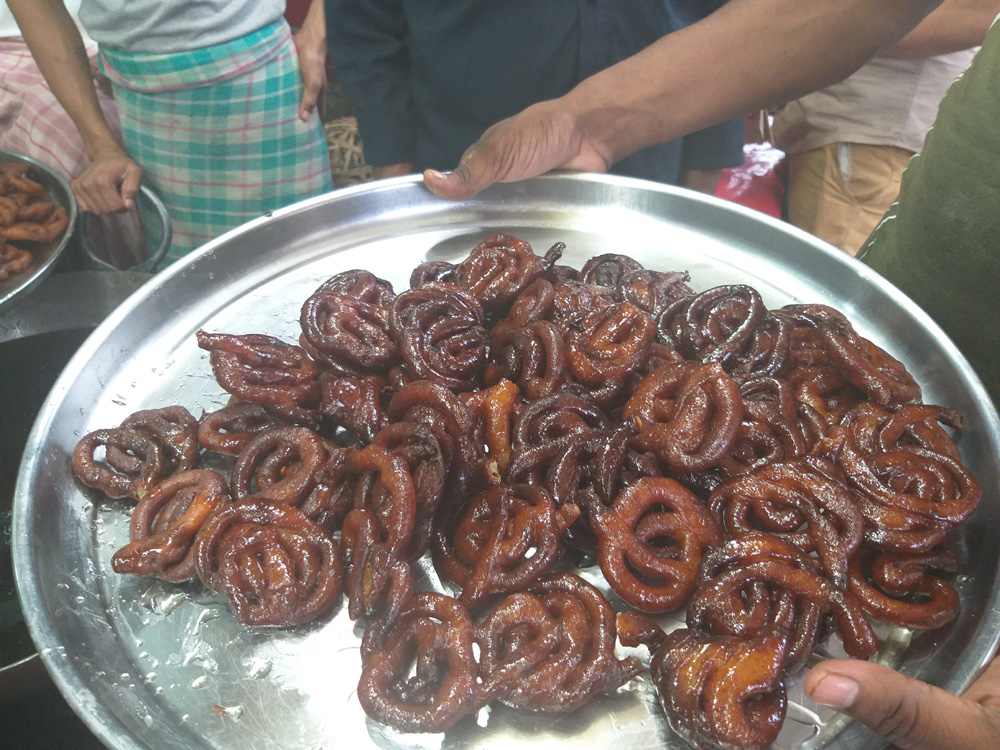 One of the most loved deserts of all times is this piping hot Mawa Jalebi. It the most popular desert that hits the streets, especially during the festival of Eid. Dark, and succulent, these Jalebis are made of rich mawa which is fried in ghee and then drenched in the hot syrup of sugar. This desert is specifically severed steaming hot along with rich rabri generously spread on it, making it a desert worth to binge on during this festival. Freshly prepared, steaming hot these delicious mawa Jalebies will leave you drooling for more. Eid is the best time to savour on this sinful dessert. A highly recommended delicacy if you haven't tried yet.

Location- JJ Jelebi is a renowned sweet shop located just opposite the JJ Hospital.This shop offers some brilliant Mawa Jelebis that are severed hot with generous serving of rabri. These Jalebis are very succulent and rich in mawa, giving it the soft and light texture with a caramelised colour that makes them very different from the regular Indian Jelebi. The delicious aroma of their rich sweets will literally leave you salivating. Other than their delicious mawa jalebi, the shop is also very popular for its tasty kala jamun and juicy Malpuas. Mawa Jalebies are often prepared and the most in demand in the evenings; which is why you may not get to relish them in the mornings or in the noon time. So, we suggest you to visit the shop in the evening, if you plan to have the mawa jalebi. All in all, we consider it as a highly recommended place to visit, especially during the Eid to capture the traditional essence of the feast.
3.Falooda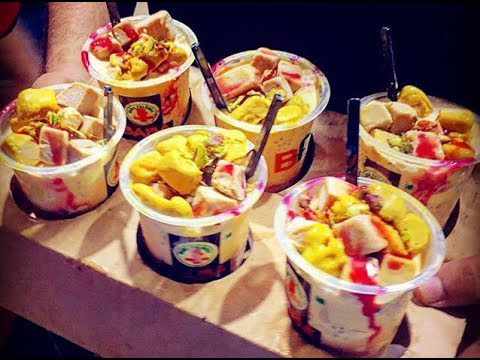 For all the dessert lovers out there, who can't get enough of sweet's, Falooda is surely a dessert you need to try this Eid. Delightful and refreshing, Falooda is a classic beverage/dessert which is a blend of silky vermicelli noodles that are topped with ice-cream, milk, rose syrup and garnished with crunchy nuts and black basil seeds. Every sip of this beverage is an explosion of sweetness in your mouth! Severed in a chilled glass mug, this dessert/ beverage is a meal by itself. Celebrate the festivity of Eid this year by indulging in this blissful treat of pure delight!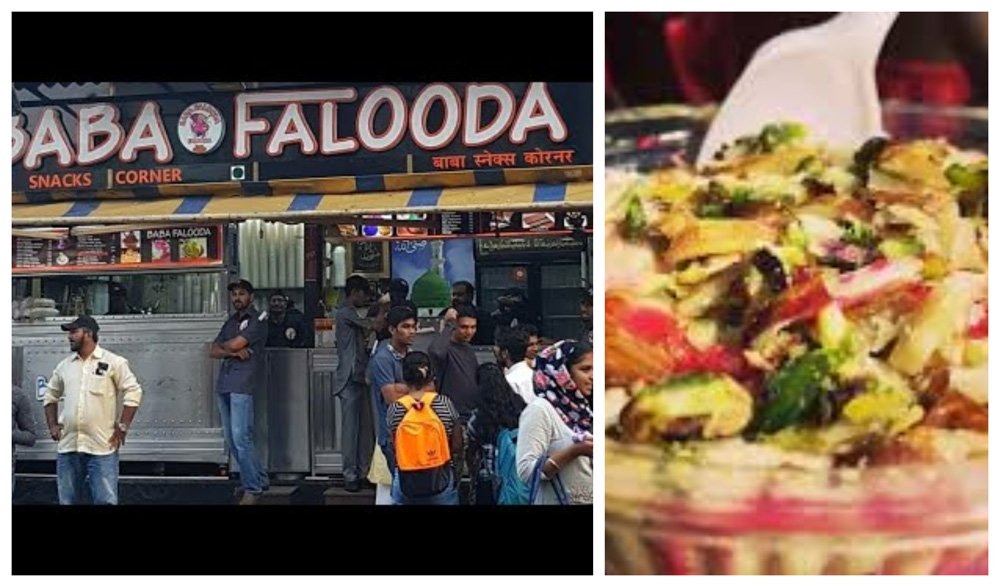 Location Baba Falooda is probably the best place to find yummy Faloodas for your after-meal dessert. Located in the busy streets of Mahim, this dessert corner offers the best tasting Fladoodas at a very affordable price. Very popular for its refreshing taste, these Royal Faloodas are an absolute delight to your taste buds. The shop serves an amazing range of Faloodas that seconds to none in Mumbai.
4.Shahi Tukda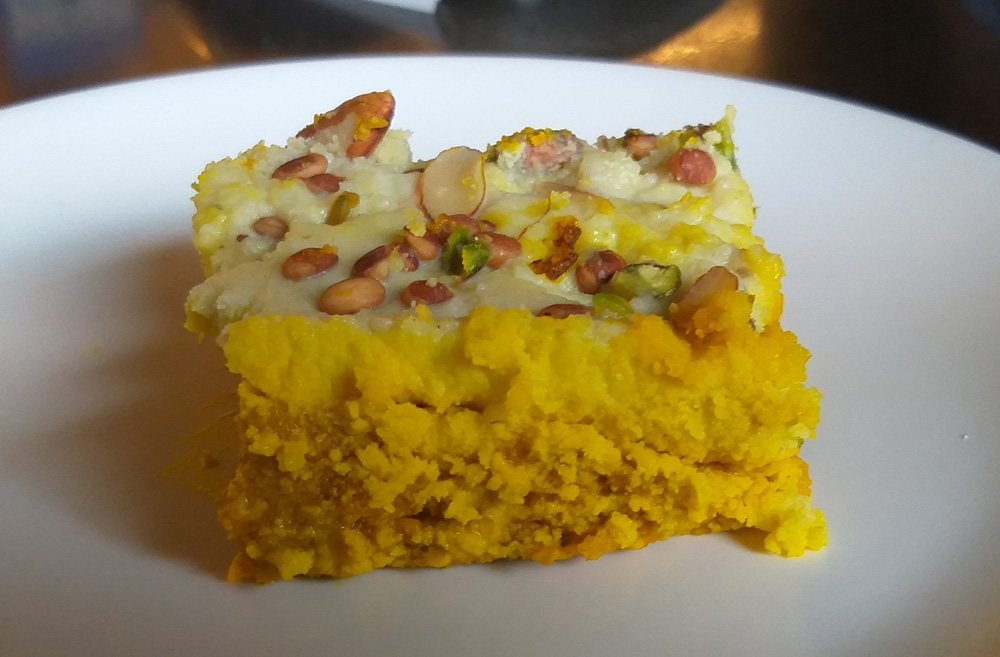 Wish to gorge on a little slice of heaven? Then Shahi Tudka is what you really need at the moment! Also, popularly known as the bread pudding, Shahi tukda is a mouth-watering and utterly delectable dessert that will satisfy your taste buds with its authentic flavours. As the name suggests, it's a royal dessert that gets its name from the richness of its ingredients. The word "shahi" which means "royal" and "tukda" which means "piece" literally translates as a traditional royal piece of dessert that truly gives one a feeling of royalty when they indulge in it. Soft and oozy, Shahi Tukda is a slice of bread fried in pure aromatic ghee which is soaked in sweet sugar syrup and topped with mawa cream and garnished with rich dry fruits. Considered to be a rich dessert, this slice of goodness literally melts in your mouth! For all those who haven't had this awesome dessert, it is surely a must try!

Location- Bademiya an iconic food joint in the hidden pockets of Colaba, was established back in the year 1946. This 72-year-old eatery dishes out their signature preparations on the special occasion of Eid. Known for their seek kababs and rolls, this food joint also sells some of the best desserts in Mumbai. You will find here some really amazing Shahi tukdas that shall leave you craving for more! Take a glimpse of what to expect on your Eid dessert trail out here.
5.Malai Khaja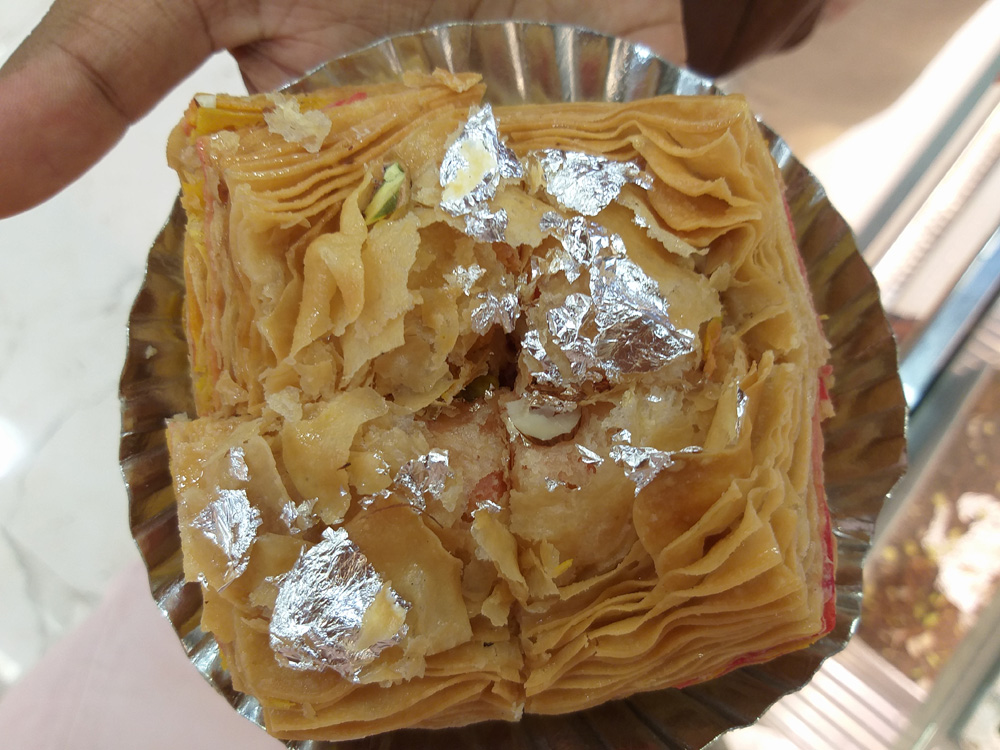 One of the most relished dishes of all time during the festival of Eid is the Malai Khaja. It is a light crispy filo pastry packed with malai and sealed and then dipped in sweetened sugar syrup and then garnished with dry fruits that gives this dessert an overall a rich, creamy and crunchy texture. It is a rare delicacy, exclusively prepared by the Bhora community. With a pleasant amount of sweetness balanced with the crunchiness of the Filo and dry fruits, makes it worth indulging.Malai Khaja is a sweet dish that comes in different variations, as every community has a special way of making it delicious and unique in their own sweet way. With each of them having their own secret ingredients in this desert makes this dish very versatile and unique.

Suleman Usman Mithaiwala is a very popular sweet shop tucked in the bustling street of Mohammad Ali Road. The shop which is super crowded during festive seasons, runs late till 11:30pm. Though the shop has an array of sweet treats ranging from biscuits to traditional mawa sweets and phirni,the shop is exclusively known for its Malai Khaja dessert as well. Make your way to this very old Mithai shop that promises you no less than a taste that's divine and sinful. You can even find this popular dessert at the Tawakkal shop which is also equally delicious and unique in their own way.
Since it's Eid Chef Payal adds another bonus dessert for the true foodie reader 🙂 One of the best kept secrets of Mumbai
6.Sancha Ice cream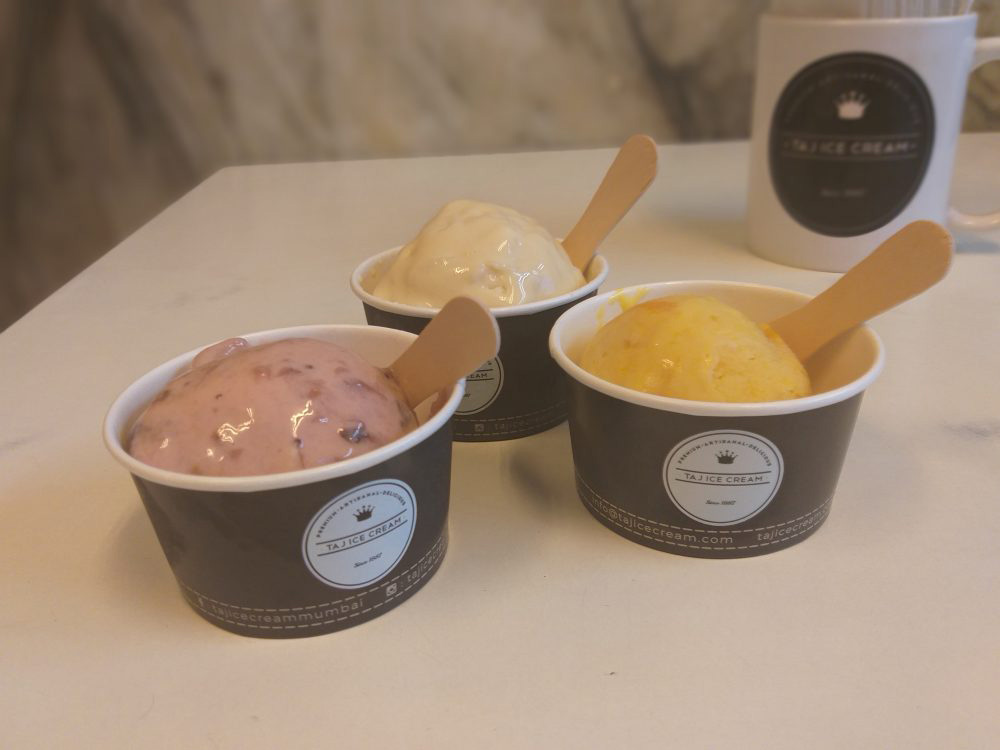 There is no better way to end your evening than a freezing cold ice cream loaded with flavours. Sancha Ice cream is one such desert that can entice your taste buds with its flavours unfolding and revealing its creamy texture. Sancha Ice creams unlike your regular branded ice creams are made in a traditional way using a hand churner apparatus called the Sancha. These hand-churned ice creams made of milk, sugar, and fruits offer a unique flavour to the ice cream, making it creamier and more delectable than the regular ones. Ranging from Strawberry, Mango, Sitafal, to even Guava, you will find a wide assortment of flavours to choose from.
Location-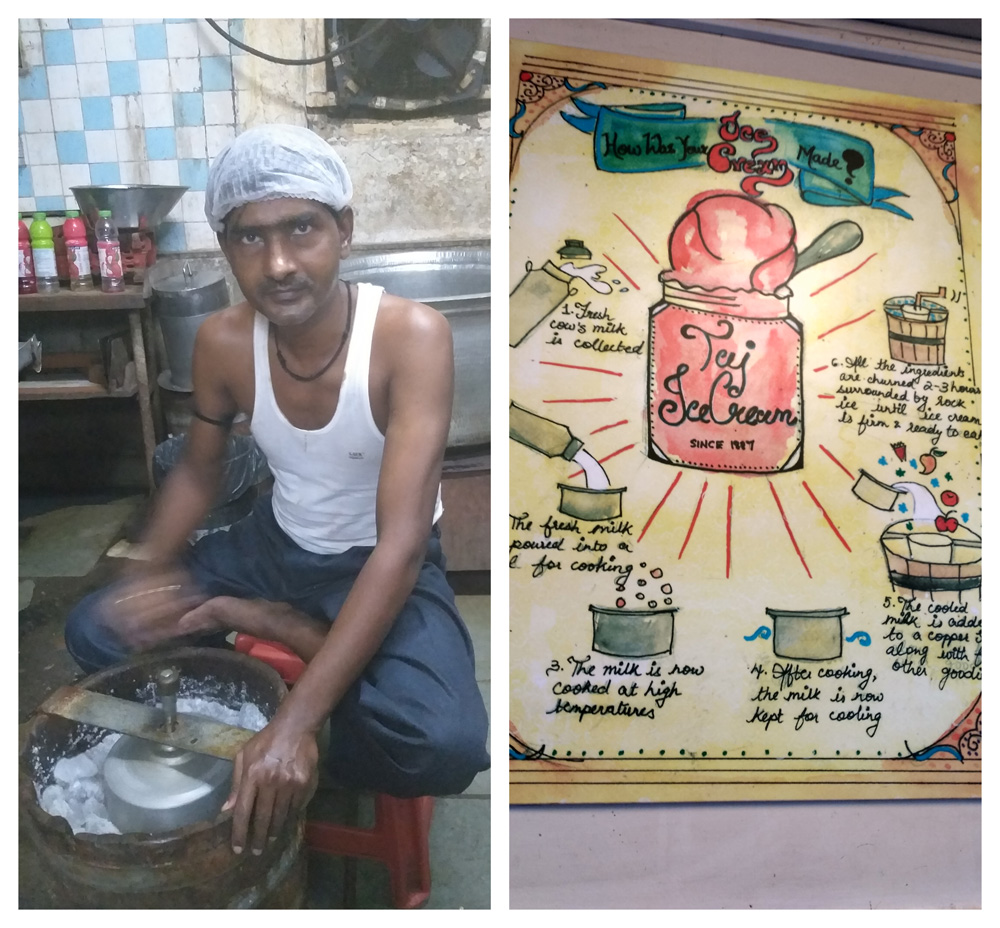 Established way back in the year 1887, Taj ice cream is Mumbai's oldest ice-cream parlour, and probably also one of the last ones to make hand-churned ice-creams in Mumbai. Run by the descendants of the Bohri family, this 125-year-old ice cream parlour located in Bhendi Bazar, Mohammad Ali Road is surely worth trying. The method of making hand churned ice creams here hasn't ever changed during its phenomenal course of journey. If you ask us whether this dessert trail is awesome enough or worth the trip, we would surely say a big 'YES'! After enjoying a scrumptious meal of Biriyanis and kebabs, walking down the streets binging on these traditional desserts is the best way to end your festive food trail.After all, when it comes to festive treats, originality is always unbeaten. Especially, after this amazing dessert trail, I strongly believe that no fusion food or western deserts can ever match the warmth and taste of our Indian Mithais or sweets.