A date with the Middle East's dates -Healthy Gourmet food gifting for Raksha Bandhan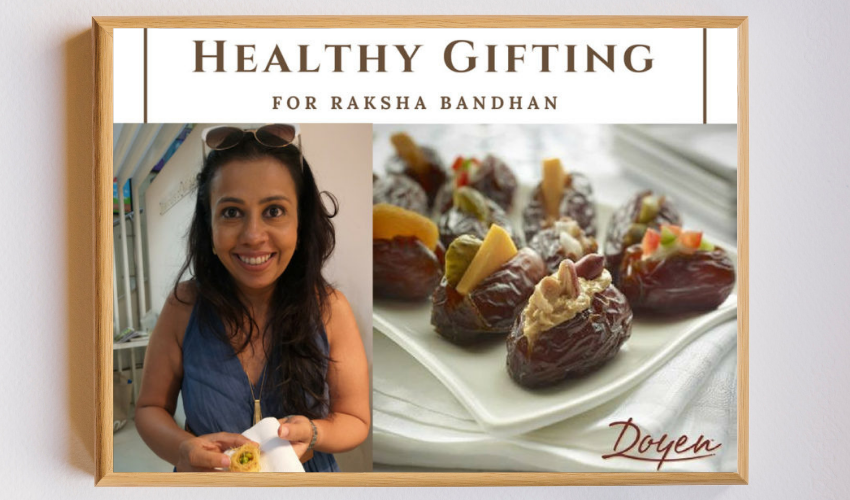 Today is yet another beautiful day of Raksha Bandhan.Its a festival where sisters tie a colorful band on the brothers wrist and the brothers and sisters exchange promise to be by each other's side and love each other.In India this festival is celebrated with lot of love and enthusiasm in each household.Sisters in each household cook for their brother and gift him something thoughtful.I too was habituated to gifting premium chocolates to my brother till I had a chance encounter with this date brand called Doyen in Natures Basket,Bandra.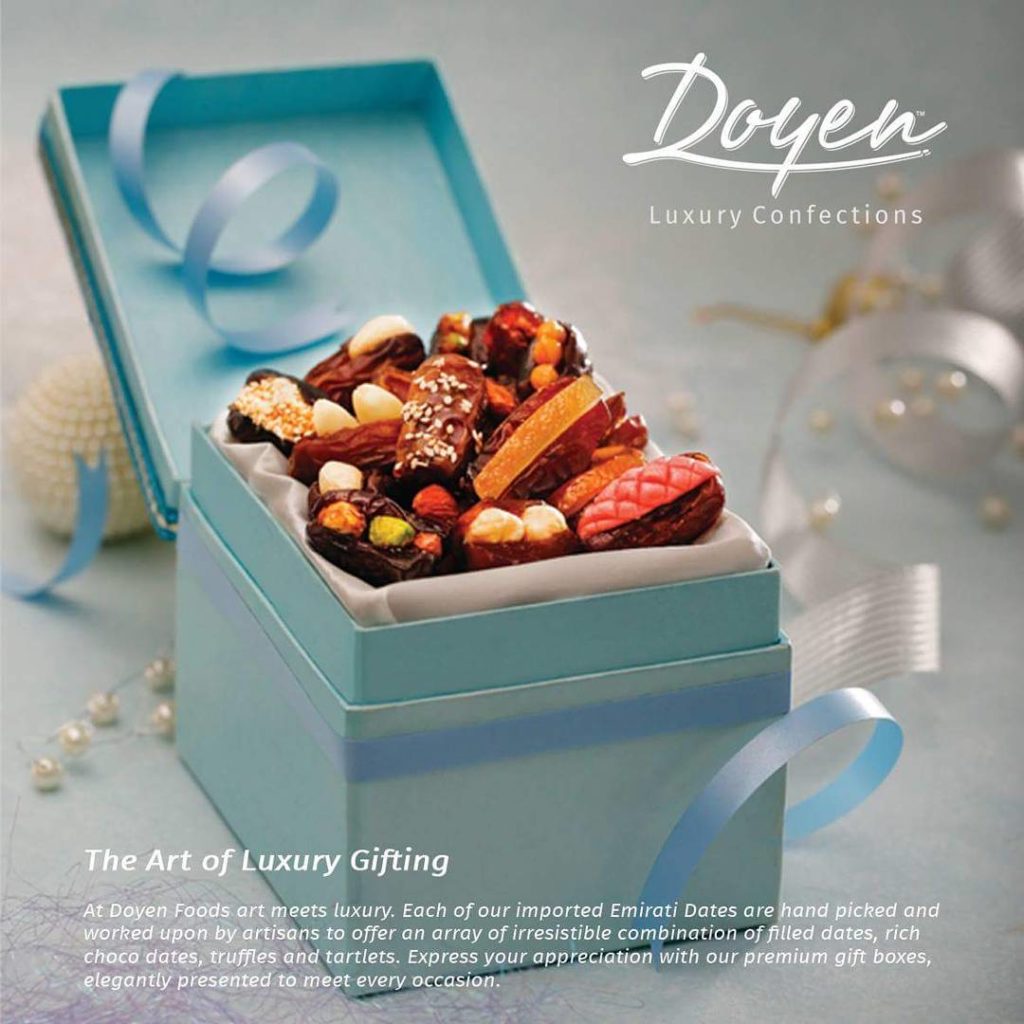 It was during my regular shopping visit to Natures Basket,bandra that I was greeted by an enthusiastic lady who asked me to check her little dates kiosk at the basement of Natures basket in Bandra. What was noticeable was her enthusiasm for her dates.I must say that trip to the basement was a noteworthy one.What I saw next when reached the basement was a beautiful and neat kiosk stacked up with lovely dates that transported me to the Middle East in minutes.I was then introduced beautifully to the brand Doyen. For the ones who know little or nothing about this brand-Doyen is brand that sells exquisite range of handpicked premium dates. Figs sourced from world's finest farms and factories across the Middle East. It has also diversified into Middle Eastern spices and Turkish Coffees and Baklava."Doyen" means a tycoon and once you taste their products you would know, why that name.
This year gifting a pack of Doyen dates to my brother was an absolute clear choice for me.For me gifting during Raksha bandhan is a thoughtful act.Its my symbol of my love and care for my brother.During my meeting with the Doyen owners Haresh Bathija and Kiran Dhameja of this brand when I heard about their journey with dates I was totally convinced that there is nothing more thoughtful I could gift to my brother other than this date brand which itself is a product of thoughtfulness.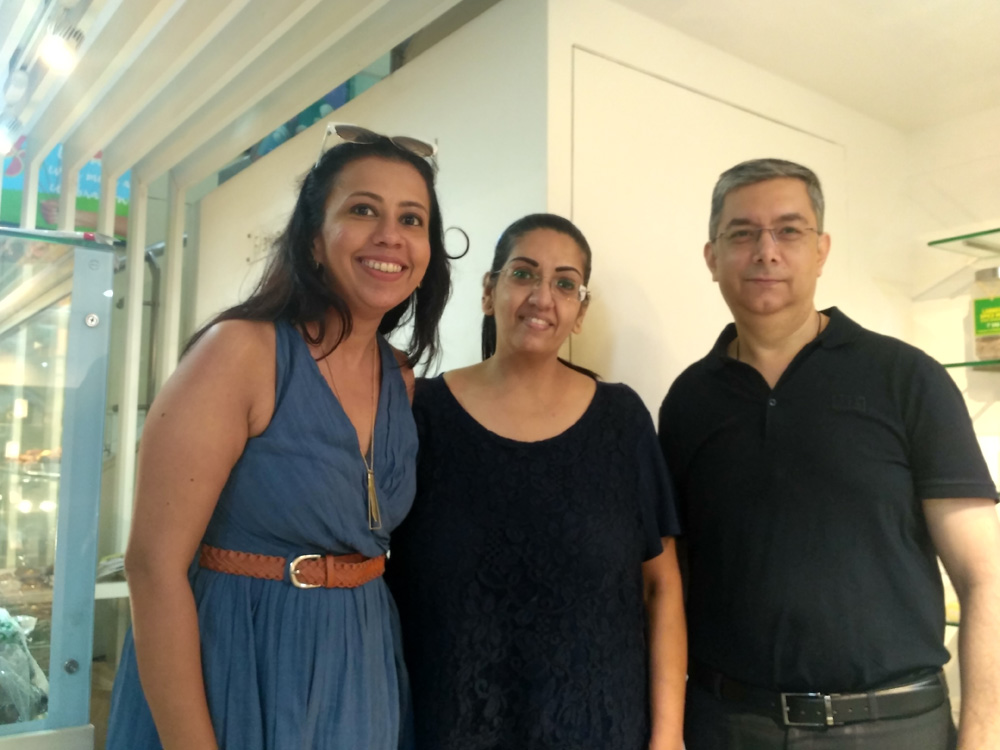 Kiran and Haresh started this venture with dates in 2014 in Mumbai.Kiran hails from an advertising background while Haresh comes from a financial background. While Haresh is a quite thinker,Kiran is a go getter and enthusiastic entrepreneur who loves playing with ideas.Together they toyed with the idea of launching some healthy and ready to eat snack in the market and dates were something they felt they wanted to go ahead with.It took them 6 months to agree on this subject matter and what followed next is history but it led to the evolution of a remarkable date brand in India called Doyen.Doyen is a labor of love.When you speak to Kiran and Haresh you will understand the level of craftsmanship and effort that has gone into shaping this brand.They are not just another brick and mortar store selling food but theirs is a concept store where dates,apricots,baklavas,spices etc are sourced with love,treated with care and served with devotion.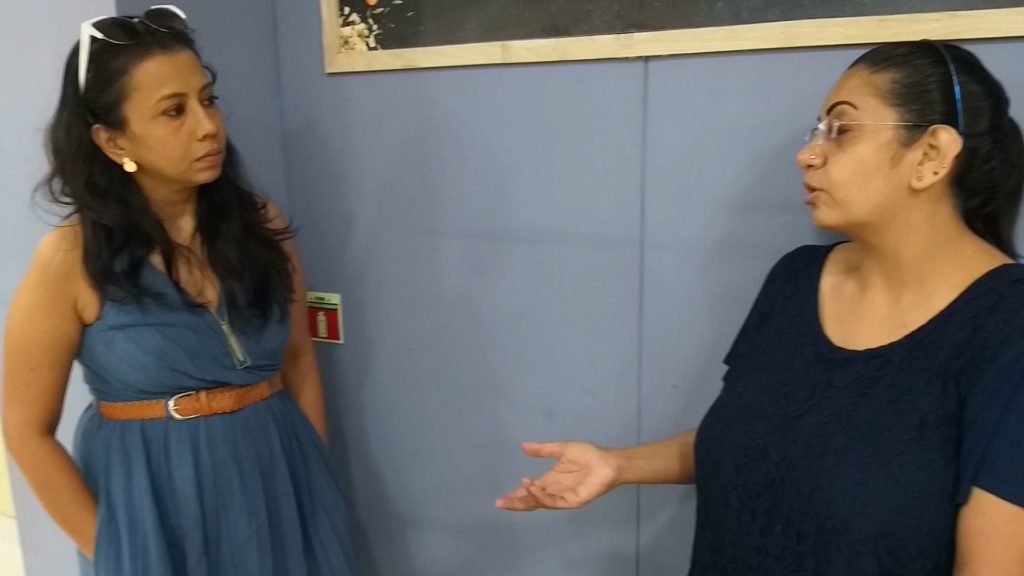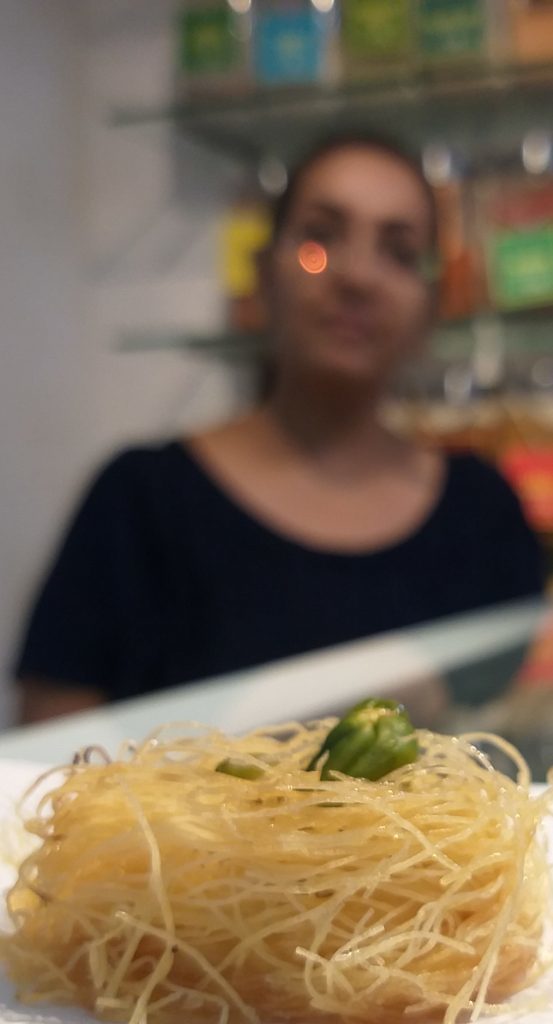 Baklava (Gift it now)
Ranging from classic traditional dates to a wide assortment of 19+ varieties of filled and coated premium quality dates, they have a lot more in store for you.Their dates have been curated with unique twist of flavours and textures post a series of trails and research that are worth indulging in.
Doyen offering combines the natural goodness of dried fruits with the treat of luxury confection.So, it's time we say a goodbye to sweets from the mainstream brands and rather opt for something healthy and premium that brings the joy of indulging in a luxury confection.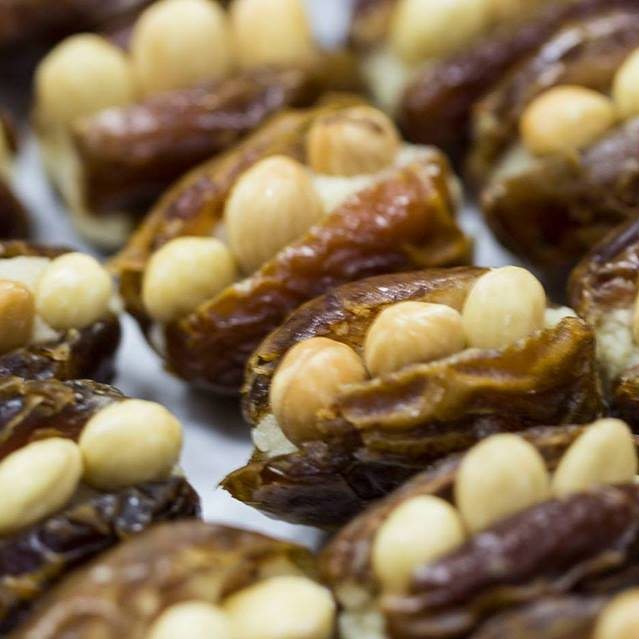 Luxury Filled Dates ( 

Gift it now )
Make this Raksha Bandan memorable with their pre-curated unique gift hampers and combos, specially packaged in premium range of gift boxes and thals for a classy timeless gifting option. Their gourmet boxes of dates make a perfect gifting choice for special occasions like Rakhi. Take a quick glimpse at their range of offerings and discover new choice of healthy premium giftings, with us today!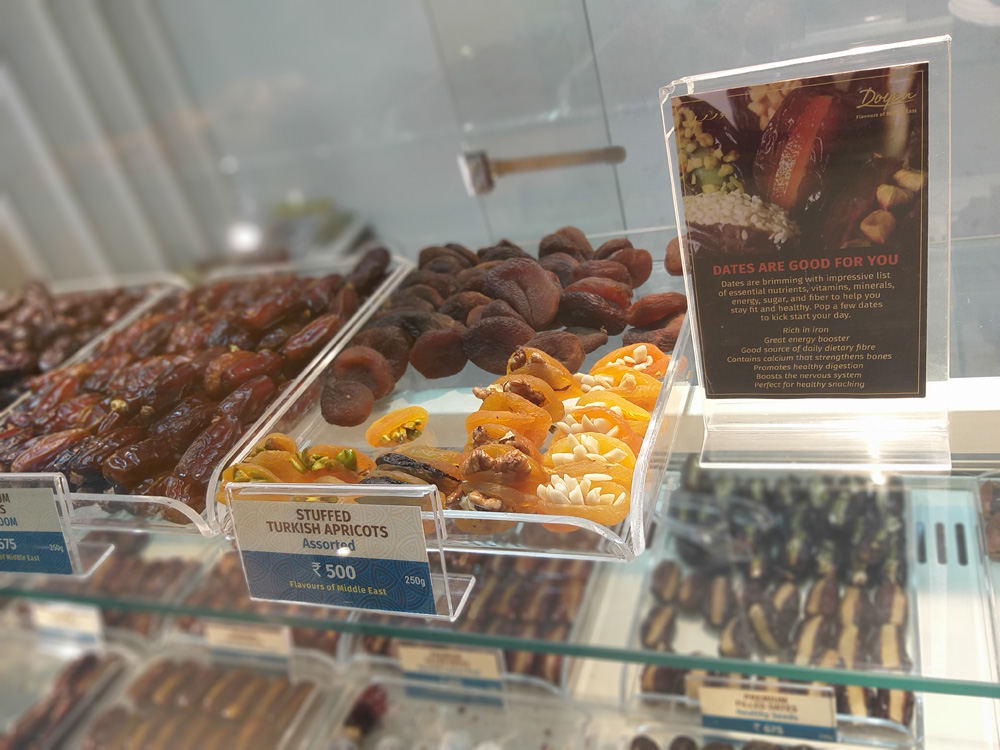 I.Range of Traditional Dates with seeds –
Under this category they sell 6 different varieties of dates:_
Sokary-Sokary dates also known as the royal dates, are firm, yellow in colour dates that are mildly sweet and fleshy.They are cone shaped dates having prominent wrinkles on their skin.
Segai-Segai are a two-toned colour dates that have mild layers of wrinkles on their skin. They are generally not so sweetish in taste, less fleshy and chewy to eat. These variety of dates can also be stuffed with roasted almonds, pecans and layered with orange peel for a fabulous taste.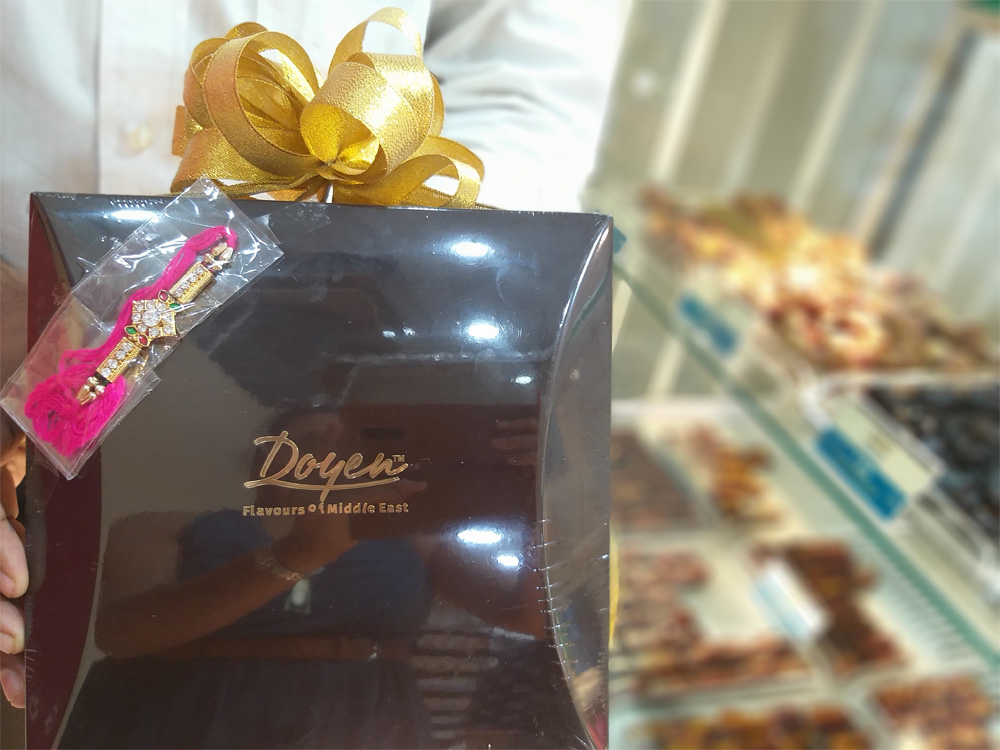 Safawi–
Safawi dates are semi-dried soft dates that are black in colour. These medium sized black dates are similar to Ajwa in terms of taste and is a special variety which is grown in Saudi Arabia. These are the most easily available dates that one can get in the market at any time of the year. For the amount of health benefits that they offer, these variety of dates remain to be one the best and the most in demand.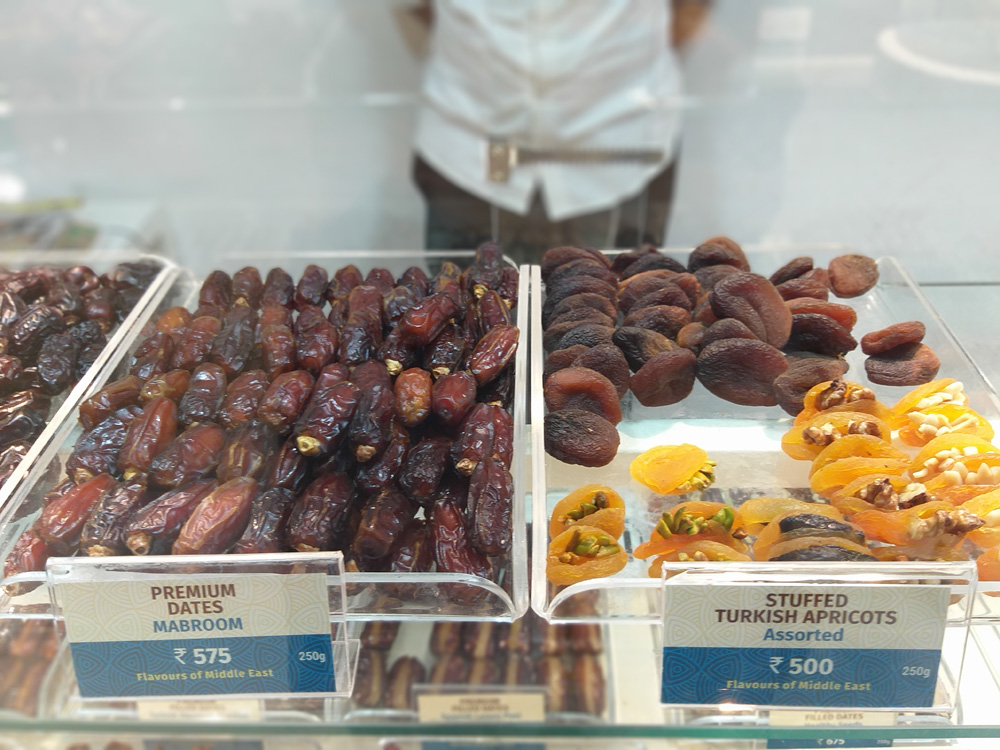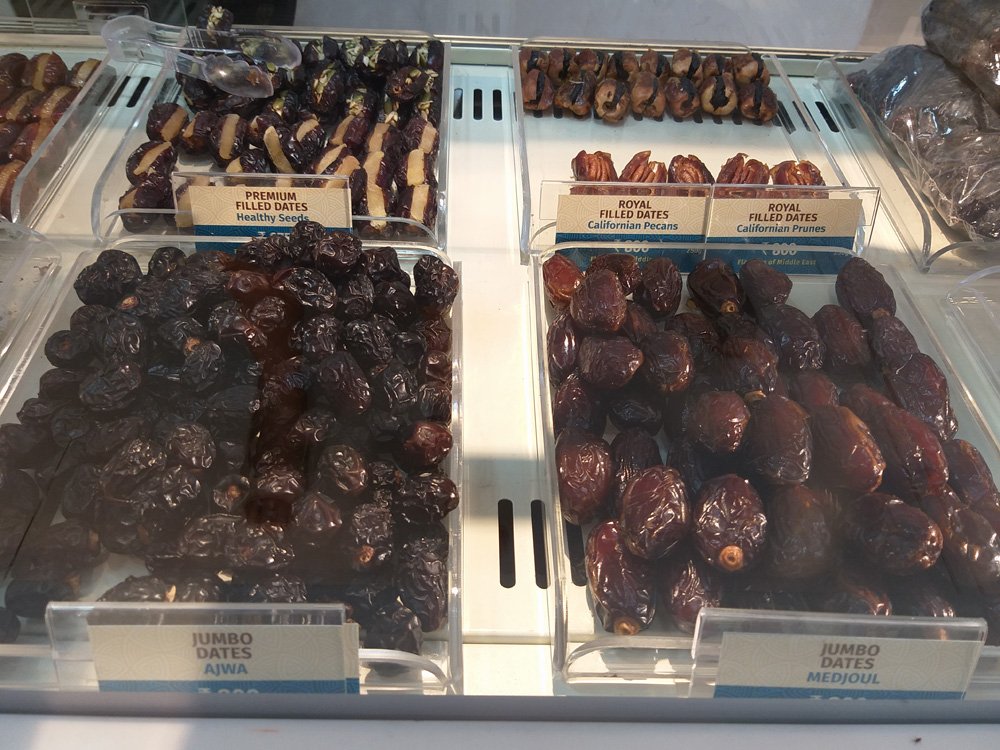 Ajwa-
or the Holy dates-Ajwa is a variety of date grown in Saudi Arabia that is small in size and black in colour. This variety of date is very sweet to taste and offers a fresh fruity flavour. Ajwa dates have great religious significance in the Muslim community, for it is said by their Prophet Muhammad that, consumption of 7 Ajwa dates a day is very healthy and pure of their body. Which is why although they are the most pricey and exquisite variety of dates, they are always in great demand. They are also said to be the holy dates for their religious significance.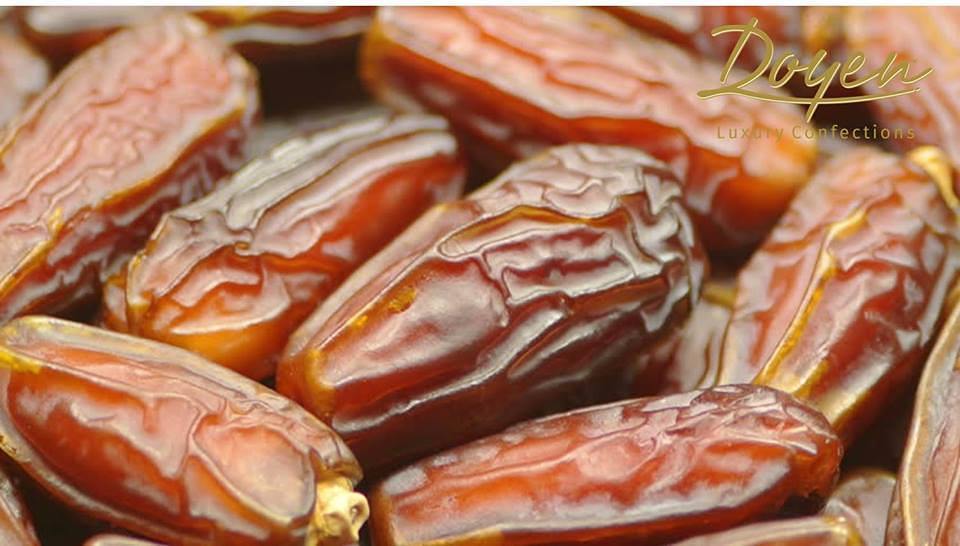 Mabroom–
Quite similar to the variety of Ajwa, Mabrooms are soft dry dates which are considered to be premium category of date fruits, rich in antioxidants and minerals. Grown in Saudi Arabia, these variety of dates are more expensive than any other date varieties available in the market. Mabroom dates have a long slender body with skin that is almost translucent and dark brown in colour and with supple wrinkles on it. This variety of date although not very sweet in taste, has chewy flesh.
Mejdoul–
This date is also popularly referred to as the 'king of dates' due to their global availability and soft variety. These dates are picked up early during the ripening season due to which they are soft. This date is a long black fleshy date perfect for stuffing anything of your choice and is great for health.It's known to reduce cholestrol,blood pressure and improve bone density.
Individually, dates can be consumed as a healthy day to day snack. Other than that, traditional dates are often used in cooking a variety of dishes and in preparation of various products like syrups, juices, energy drinks, pickles and spreads. They can also be used in baking special date cakes, pastries and date breads.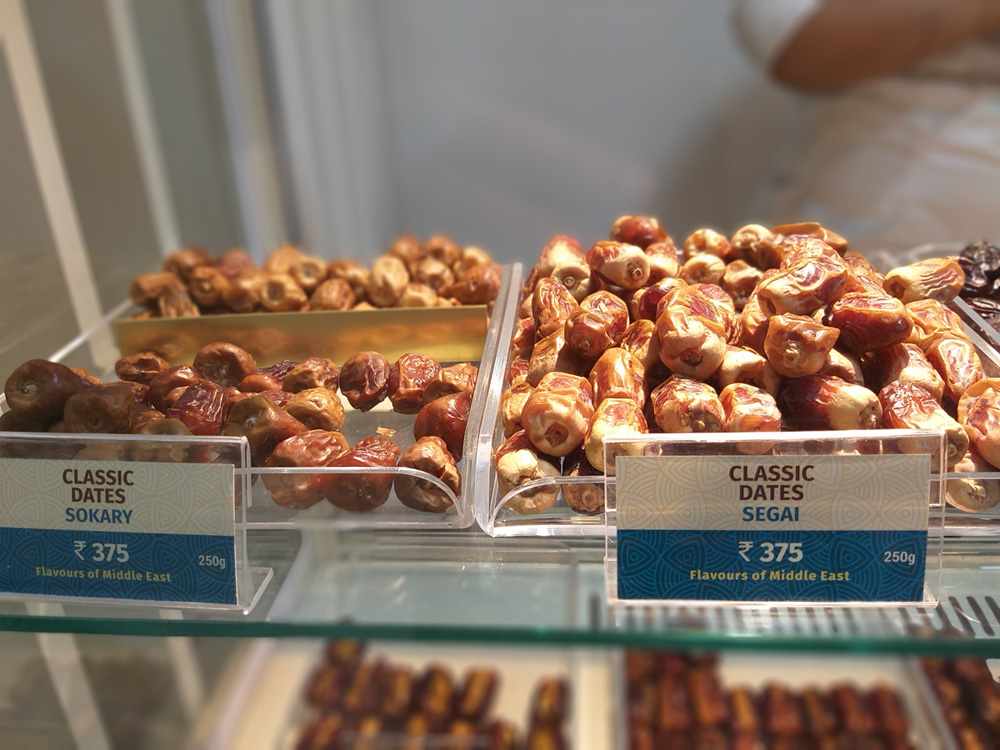 II.Seedless and non stuffed date
There is a seedless variety of special date called Omani too that they offer which is my special recommendation for you incase you are a dte lover
III.Exclusive Stuffed dates –
1.California honey walnut-
California honey walnut date is a delicious flavour, worth trying if you plan to visit this store. A fantastic combination of date, flavoured with honey and walnut will make you crave for more once you have them.
2.California almond–
Sweet and tender with a dash of crunchiness of the California almond, this variety of date is a must try if you ever head to this place for dates.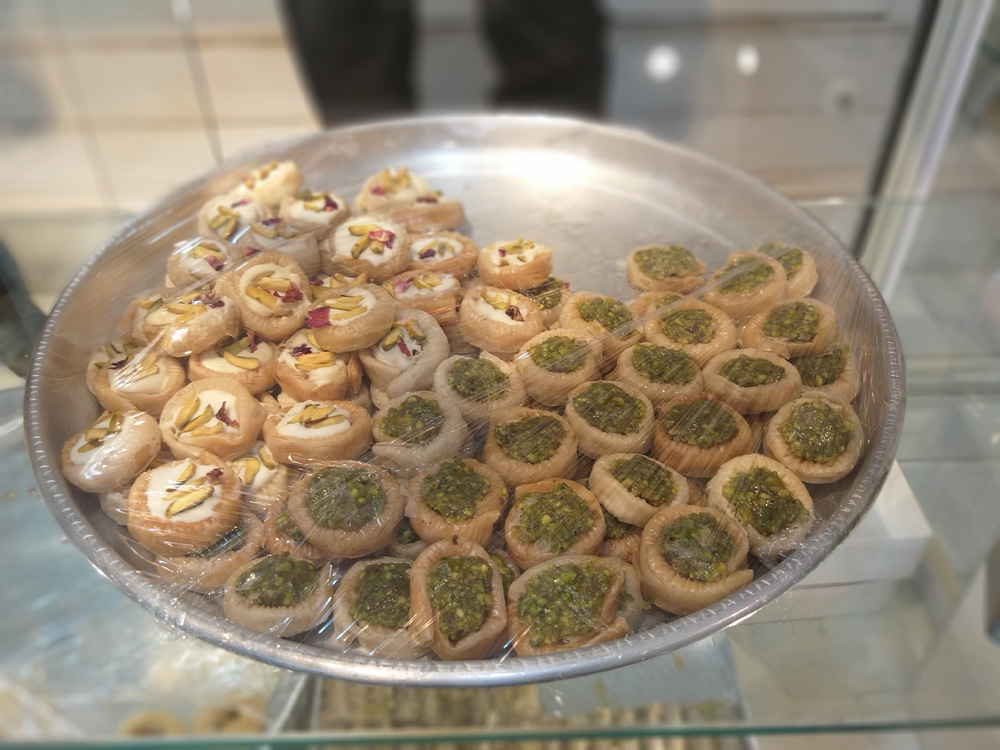 3.California Prune–
A great offering for prune lovers where one gets to taste the silky texture of prunes with fleshy coating of dates over it
4.California Pecan stuffed date-
Dates filled with pecans is equally a delicious variant that they are offering in their range of premium stuffed dates.
5.Turkish Hazelnut roasted date-
Turkish Hazelnut roasted date is an absolute melt in your mouth variety. Flavoured with the finest quality of roasted hazelnuts makes it an absolute delight in very sense.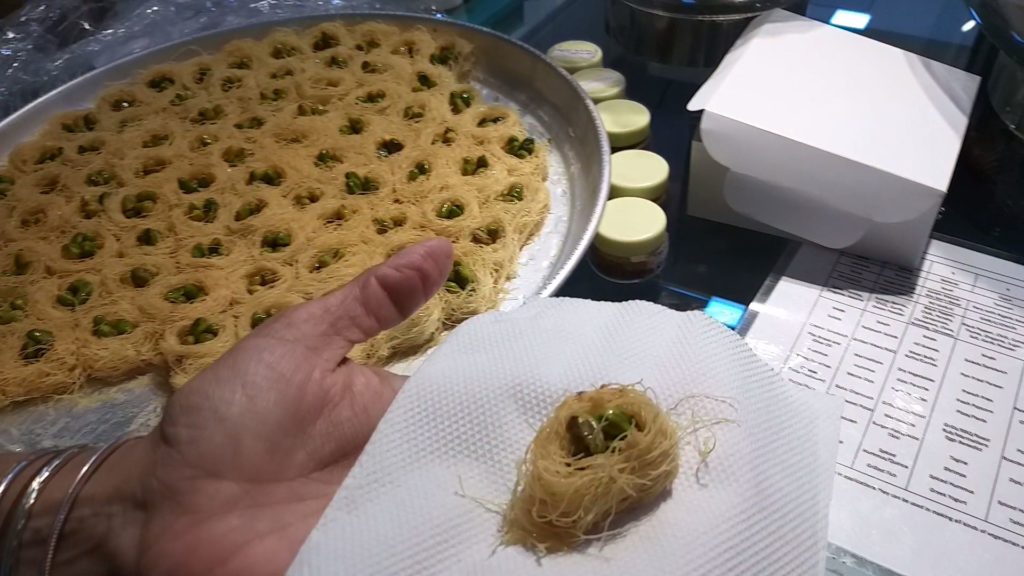 Baklava
6.Turkish apricot–
Turkish apricot is an amazing variety of date loaded with flavours. It is a super tender and gooey variant of date, bursting with nutrients and energy, perfect for Mediterranean millennia diets.
7.Turkish pistachio–
Turkish pistachio is a date filled with generous amount of nutty pistachios in it. This sort of filling in the date gives it a classic sweet, crunchy and nutty flavour in every bite of it. Surprisingly, the dense rich flavour of the date works exceptionally well with the sugary Turkish delight which is filled with crunchy pistachio.
8.Spanish lemon –
Spanish lemon peel is a sweetish-tangy variety of date, filled with assorted dry fruits and zesty strips of natural lemon peel layered on it.A refreshing indulgence worth every bite!
9.Spanish orange peel-
Exotic flavoured dates filled with strips of natural orange peel is a sheer treat to your taste buds. These gourmet Spanish orange peel dates offer delicious sweetness in every bite. Try these exquisite flavours of date that makes a wonderful healthy snack.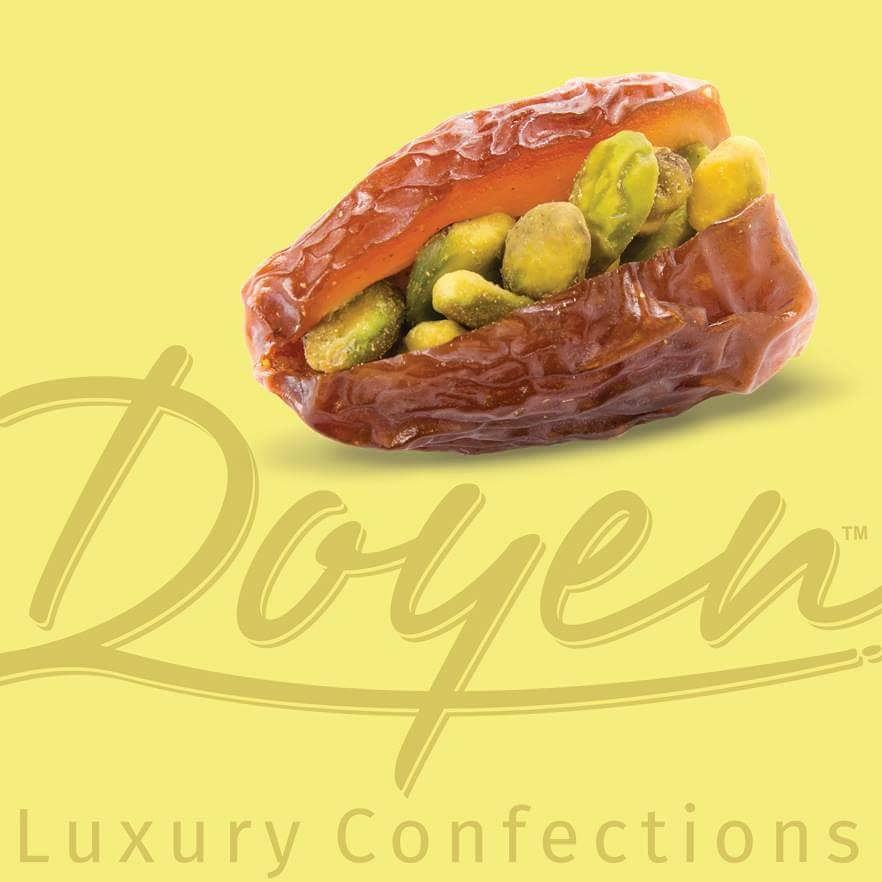 10.Healthy almond honey granolas–
Honey almond granolas are premium Saudi dates filled with assorted range of dry fruits and healthy granolas. A heavenly combination of honey oatmeal granola combined with crunchy almonds and cinnamon, all stuffed in premium dates makes it a good royal healthy snack.
11.Healthy seeds dates–
These dates are stuffed with sunflower and pumpkin seeds and is a must have for health food lovers
12.Ginger peel stuffed dates–
Incase you are a ginger lover this one is a no brainer for you
13.Chocolate coated dates-
For all the little ones at home this will not only give them much required nutrition coming from the goodness of dates but also satisfy their sweet tooth craving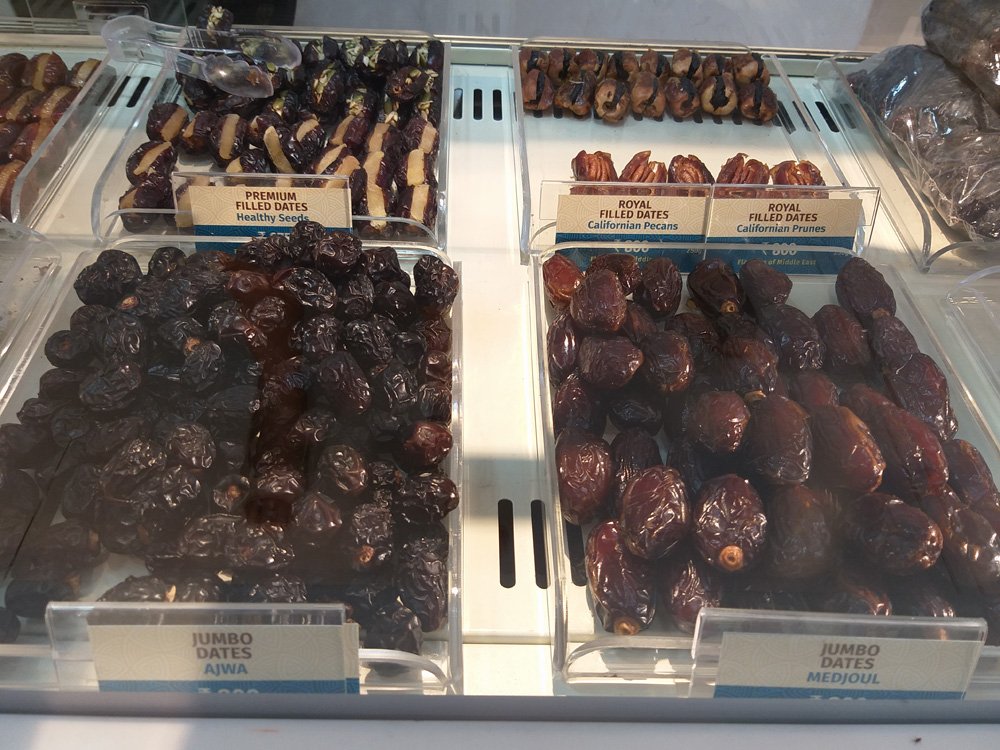 IV.Exquisite flavoured dip dates
Here is a range of premium luxury Saudi Arabian Dates filled with roasted cashew, dipped in exotic Persian cream and coated with crunchy roasted Pistachios, Almonds and Cashews. This range of dates are supposed to be their bestselling products, for they are an absolutely delight, offering an amazing combination of sweetness of dates along with richness of dry fruit coating.
So go pick your choice of gourmet treat for your sibling on this beautiful day of Rakhi and they are sure to love them all. Why settle in for anything less when you can offer them something as exquisite and as premium as these goodies. In our passionate search of healthy snacking and gourmet food gifting, Doyen is a brand that truly makes for an epicure's paradise! Here you can always be assured of the best quality premium dates.So happy eating and Happy Raksha Bandhan.Celebrate this Raksha Bandhan Doyen style!!!
The Doyen gifting options are available online on Amazon
Dear foodie,
Thanks for reading.Let me know any feedback,by commenting below.It would be an honor,to have you in my network.Feel free to connect with me if you're active on these networks.
Facebook , Twitter , Pinterest, Linkedin, Instagram ,Youtube , Google+ and Behance