God's own feast : Chef Payal explores Onam Sadhya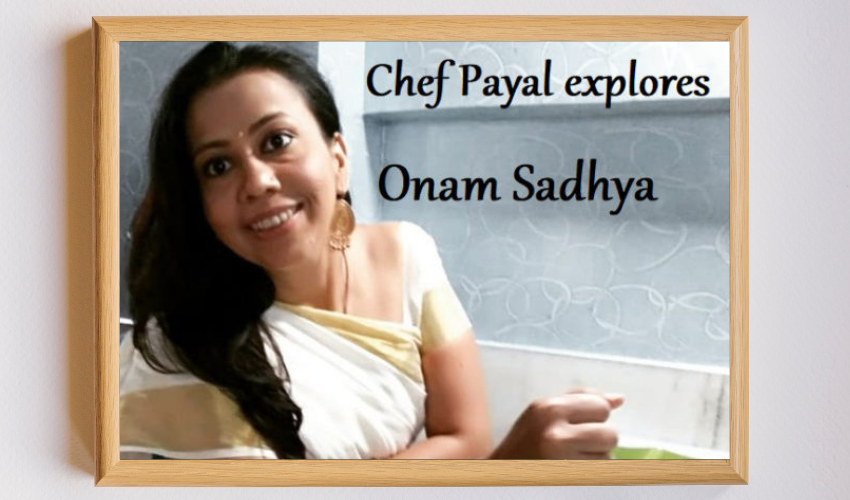 Onam is a Hindu festival of joy,solidarity and compassion that embodies Kerala's cultural unity and pluralism.Check out some indian food styling tips for Onam sadhya.
For those new to the festival of Onam, it's is a rice harvest festival of Kerala.Onam is the official state festival of Kerala and major festivities take places across 30 venues in Thiruvananthapuram capital of Kerala. This festival is celebrated for 10 days in Kerala during which vegetarian meals made from harvest is cooked and eaten. Onam  festival begins with the raising of the festival flag at Vamanamoorthy Thrikkakara temple.This temple is the focal point of a 10 day long Onam celebrations.

Performances are a key aspect of this festival.These include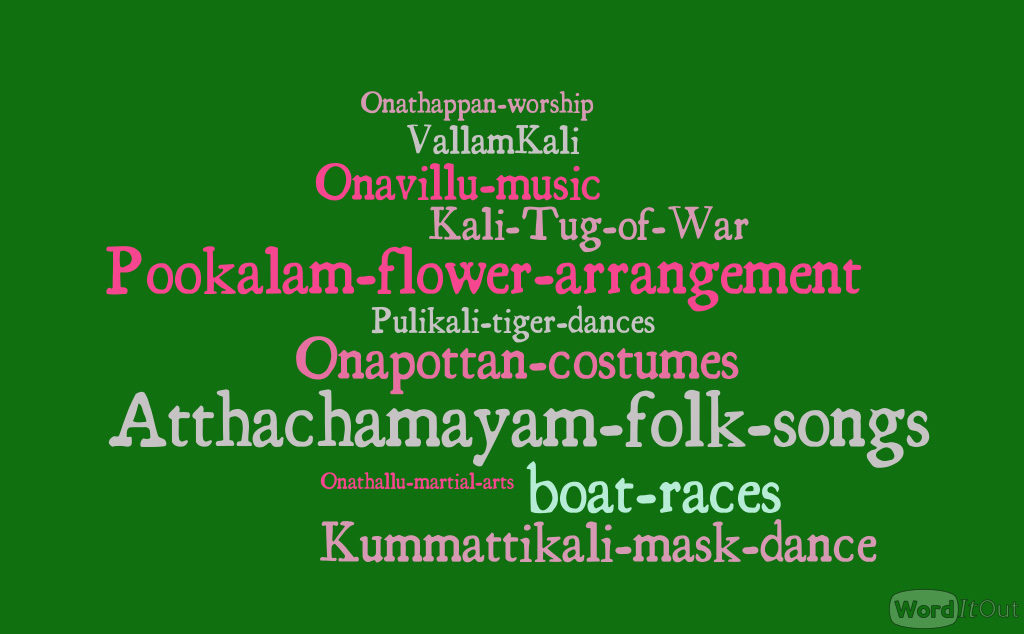 Food is another highlight of this festival.This meal eaten during Onam is not an ordinary one.Infact it would be wrong to call it a meal for its a royal feast!! This feast is popularly called Sadhya and comprises of 26-28 dishes each of which has its own significance.The legend of Onam Sadhya is a must have experience in this festival.Each aspect of this feast,right from how it's served to the arrangement of dishes is done according to traditions.
I was blessed with a visit to God's own country while foodstyling for Kerala cuisine.I was fully taken aback by the breath taking beauty of nature and the lip smacking food there. Mesmerized by my experience this year we decided to go and experience this Kerala culinary treasures at a Mumbai restaurant called Taste of Kerala.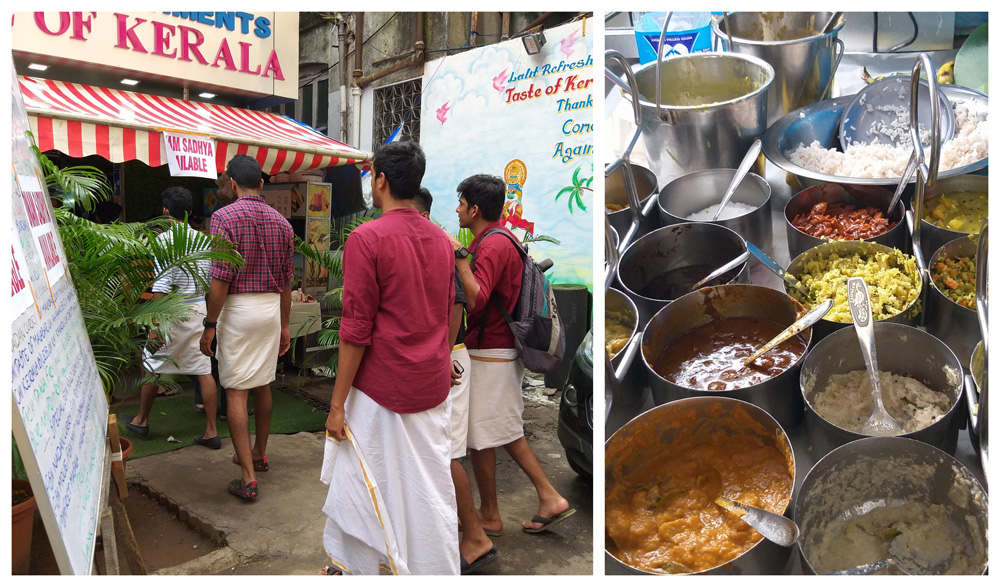 It was around 2 pm that I walked into a crowded Taste of Kerala in Fort,Mumbai.The place was bustling with hungry bunch of people waiting in queue to taste this years Sadhya.The place seemed like mini Kerala with men in white lungi and shirt and women in golden set sari.All around us was food,banana leaves and great deal of festival energy.While some people had already polished off their meals some were midway between meals asking for second round of helping and yet there were others folding their banana leaves to mark completion of their meals  and making way for new people to eat.All in all this place looked like mini Kerala today.
We were given a seat opposite a lovely Christian Malayali couple. As we sat we were sceptical if our constant food enthusiasm would disturb their otherwise quite meal but luckily we hit off well and during the entire meal we chit chatted,laughed and exchanged cultural notes.I must admit I really got some real good information about onam and sadhya from them and so we embarked on this culinary journey,to experience the sensational dishes filled feast at Mumbai's very own Taste of Kerala.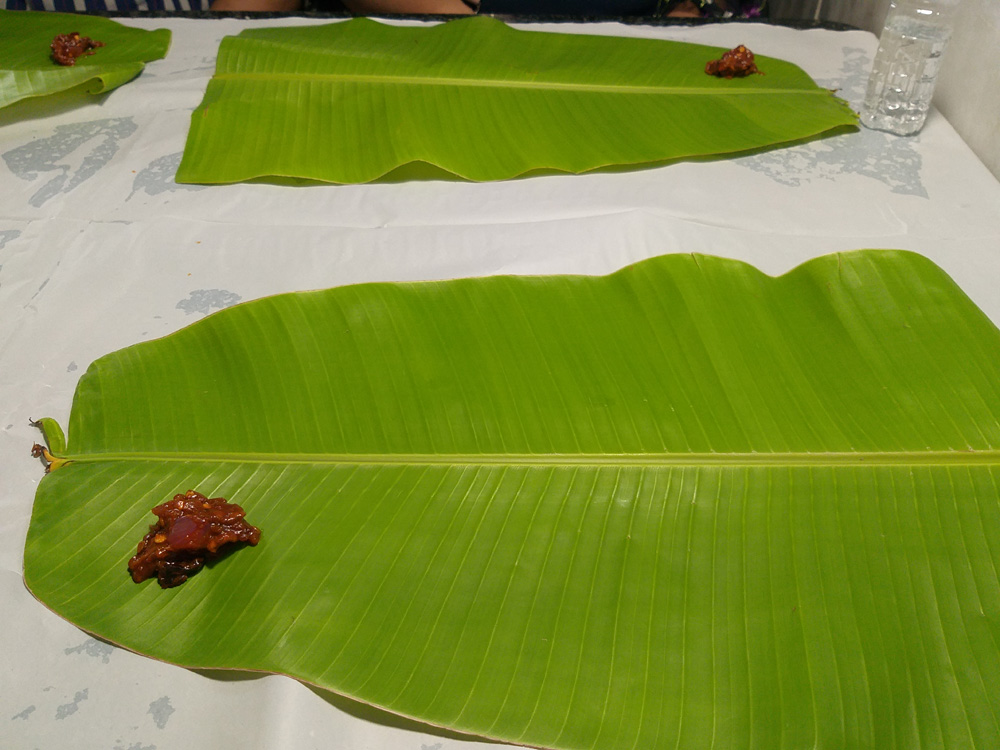 As we sat fresh banana leaves were then put in front all four of us.Please note that sadhya is eaten on a banana leaf and if you wish to have a real feel of the festival there is no escaping from this.The banana leaf serving as a sadhya plate has a compound called polyphenol which has antioxidants similar to ones found in green tea and kills germs that might be present in food.The leaf is also eco friendly and easy to clean.Apart from the healthy properties the leaf gives the food a much needed taste as it has a waxy coating on its surface that melts when hot food is put over it.This melted wax then mixes with food and enhances its flavors.No wonder then food served on a banana leaf tastes different from one served on a normal steel plate.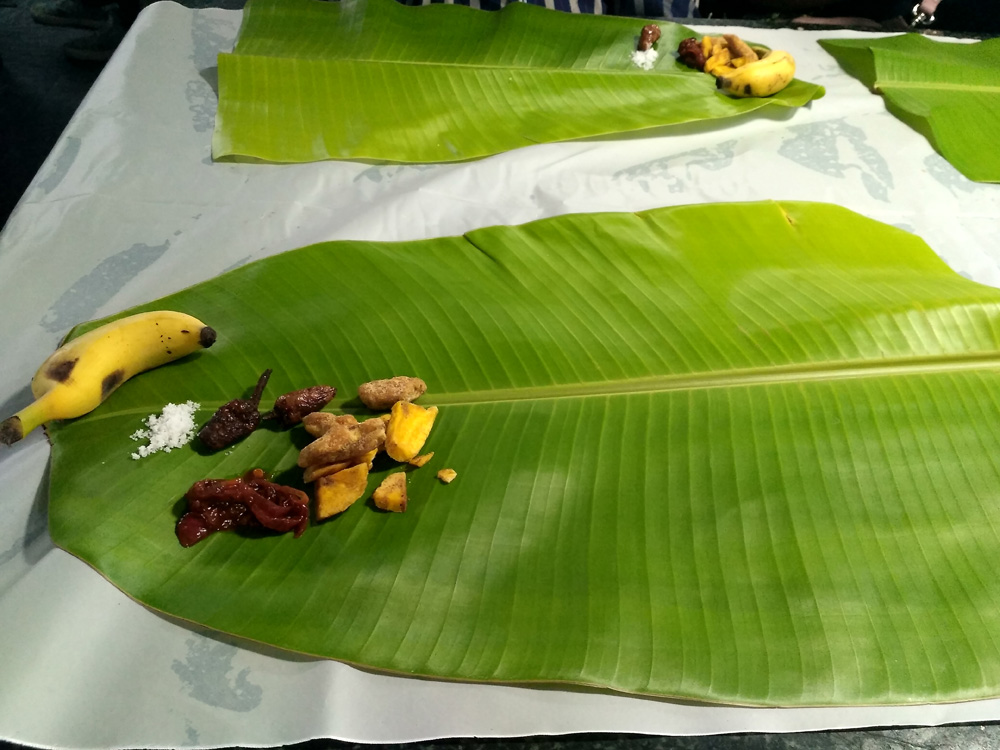 During the earlier days a meal started with the serving of salt and the last thing to be put on the leaf would be rice. In between the salt and rice the entire range of accompaniments,main curries,desserts,banana etc would be served.However here though our meals started with serving of salt it followed a random order of other food being served.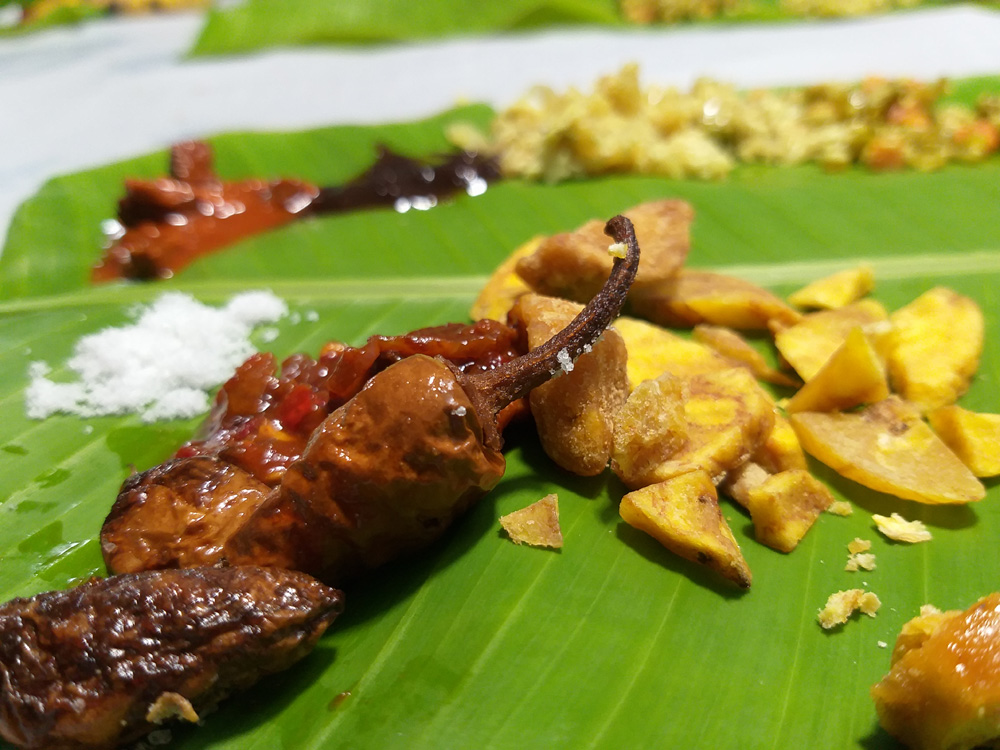 The salt on our plate found itself quickly surrounded with  fried chillies(Molagu Varuthathu),Mango pickle,salty banana chips(Upperi),sweet jaggery coated banana chips(Sharkara Varrati) and small elaichi banana (Poovan Pazham).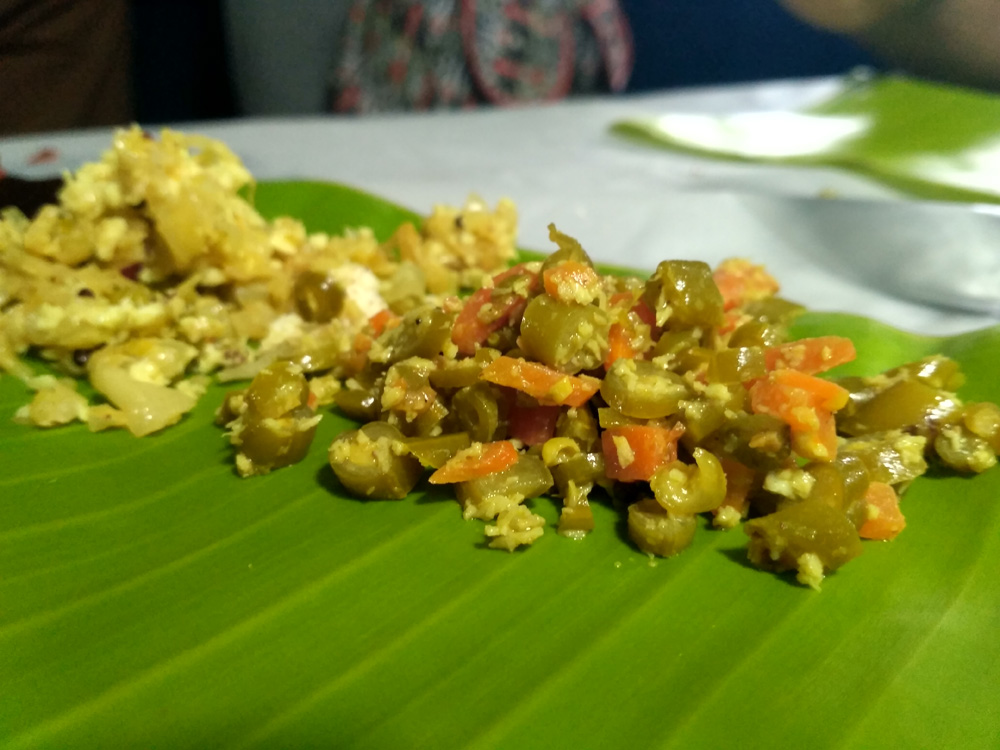 This in turn was followed with 2 kinds of thoran one made of cabbage and other of carrots plus beans.Then came in the humble buttermilk,White Ari payasam with Sago,Brown payasam with jaggery,rasam,Puli inji,onion pickle(Ulli Thokku),Shallots in coconut gravy(Ulli theeyal)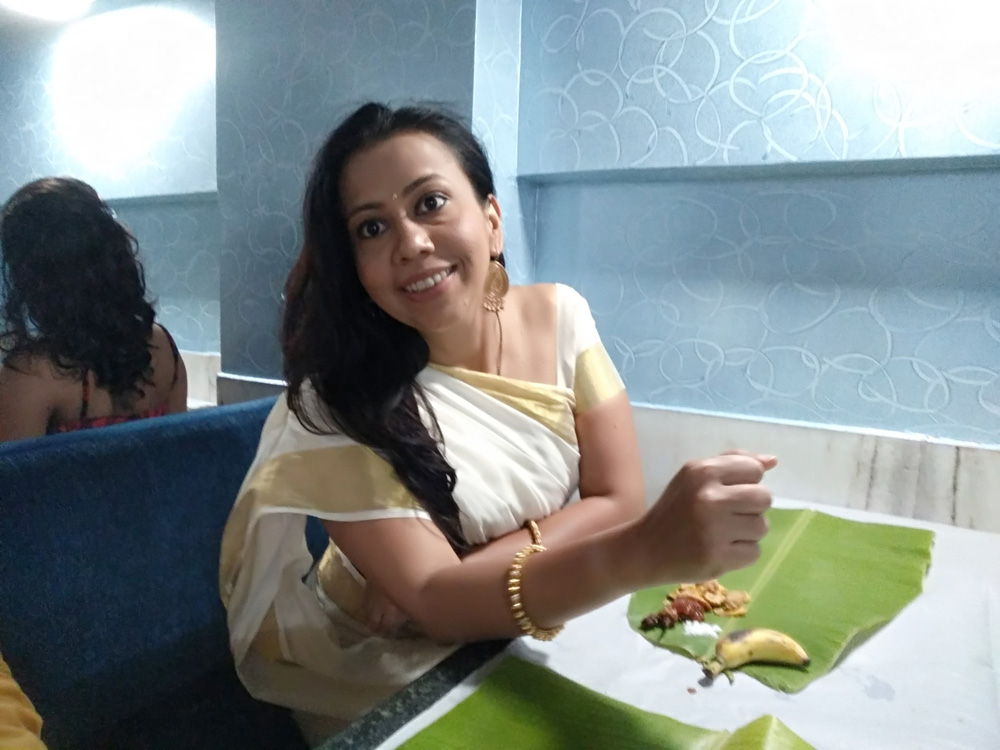 Next to arrive were olan,kaalan,avial,Suran bhaji(Chena Erissery),raw mango Erissery,South Indian Cucumber Pachadi(Vellarikya Pachadi)lastly we were served Brown rice,sambhar and pappadum made of rice.If you thought that in ended here you were wrong.Wait there was still ghee/Neyy to come.
Please note that most dishes in Sadhya is coconut based due to the abundance of coconut in the coastal region of Kerela.Also Sadhya can be eaten for lunch or dinner but most prefer it for lunch on a holiday as it gives enough time in the day to digest it.So here's your quick guide to the names and description of the Onam sadhya dishes.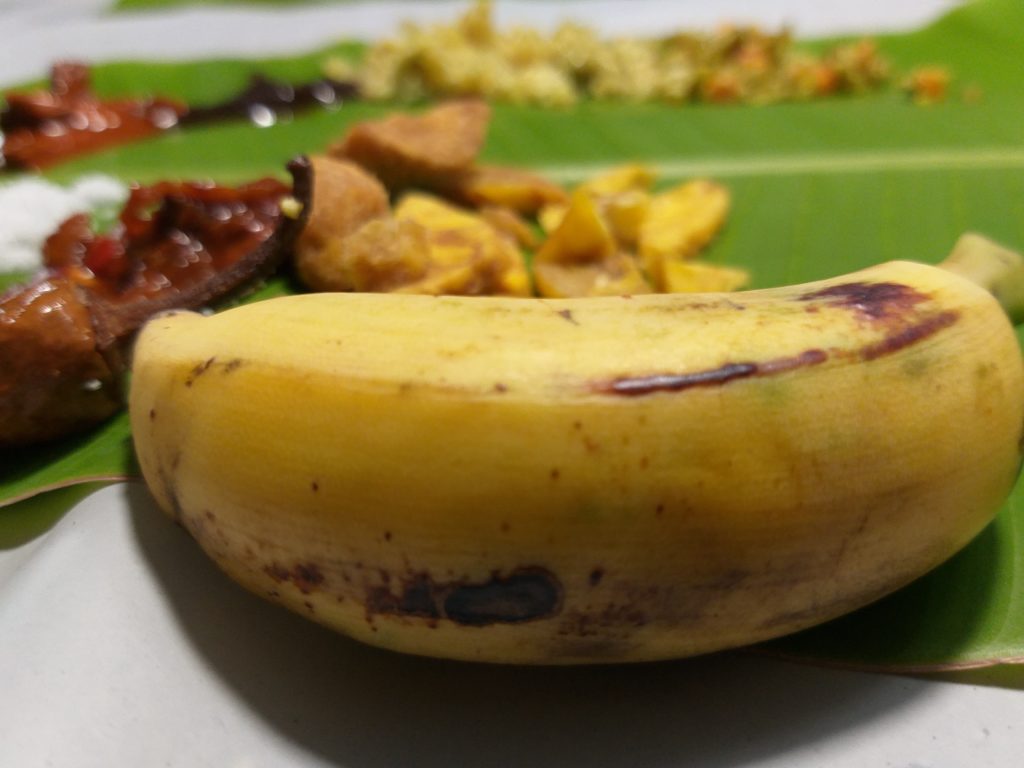 1.Rice or Kutthari: It's a semi polished parboiled thick brown rice is the main component of the Onam sadhya.This rice is believed to be very health friendly and due to its thickness binds with food very well and gives it a beautiful taste.
2.Rasam: A thin soup, made primarily of tamarind, tomatoes and spices such as black pepper, chilis, asafoetida, coriander, etc. It is usually very spicy and tangy.It's believed to aid digestion
3.Sambar: The humble sambar is one of the essentials in an Onam sadhya. The thick sambar gravy is made of lentils, tamarind, tomato, drumsticks and other vegetables and is flavoured with asafoetida.Unlike a rasam a sambhar is more richer due to presence of lentils and has more vegetables like drumstick in it which makes it more filling by nature
4.Mixed vegetables in Coconut gravy/Avial: Many Malayalis swear by this simple dish, made of grated coconut, coconut milk and vegetables, seasoned with coconut oil and curry leaves.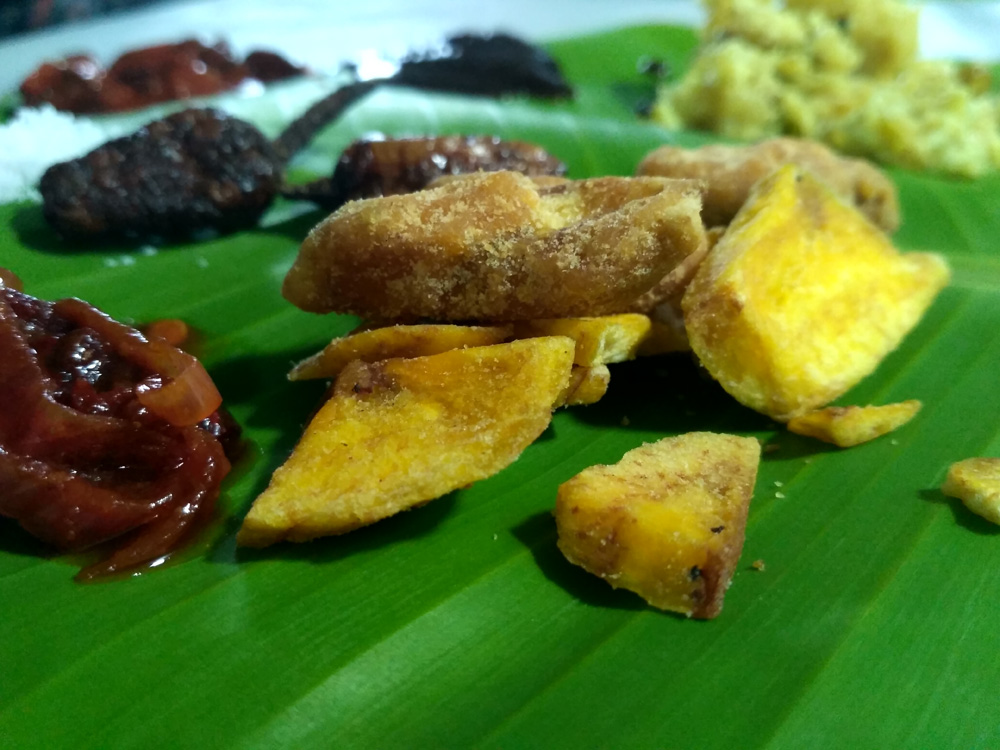 5.Olan: This is a preparation of white gourd,red beans and coconut milk, seasoned with ginger and coconut oil.Its a mild curry
6.Kaalan: This is a combination of green banana, pepper, yogurt, grated coconut, jeera, green chillis and turmeric. This is made several days in advance.
7.Thoran: This preparation of vegetables(cabbage/carrot/beans)sautéed with grated coconut is a very important element of the sadhya, without it the traditional meal is considered incomplete.Its my personal favorite due to its very light nature.Here we ate 2 varieties of thoran -Cabbage thoran and Carrot beans Thoran
8.Mango Erissery: This preparation in taste of Kerela consisted of raw mango cooked with grated coconut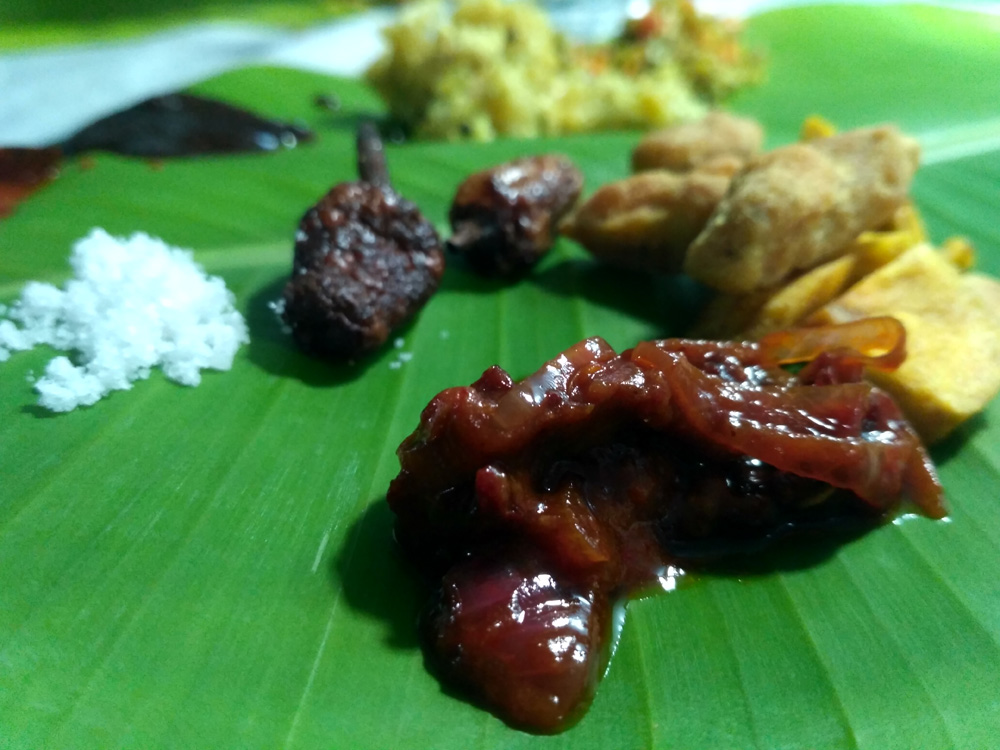 9.Chena Erissery-Yam in coconut gravy was another erissery we ate
10.Ulli Theeyal/Shallots in coconut gravy
11.Tamarind-Ginger curry or Puli inji: This is one of the stars of the Onam sadhya. It is a lip-smacking combination of sweet, sour and spice, made with crushed ginger and green chillies which are added to tamarind. It's a must-have in a Kerala sadhya.
12.Ulli Thokku/Onion Pickle- Made of shallots and spices and a great taste enhancer
13.Mango pickle/Manga Curry-Mango Pickle eaten with food to add little firecrackers to your food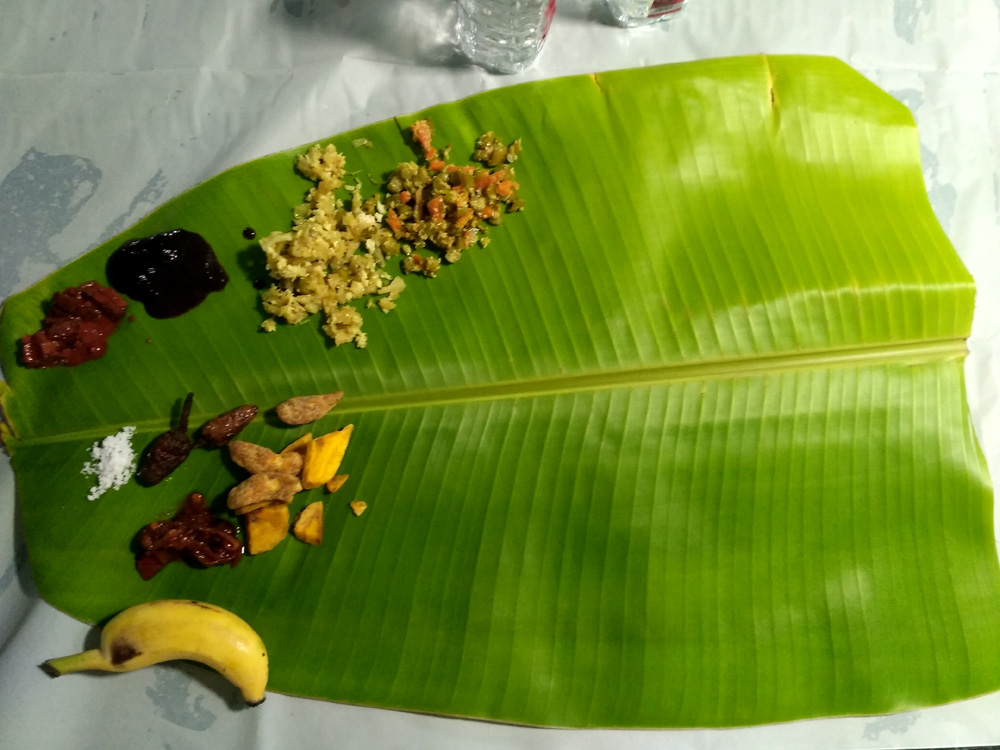 14.Fried Chillies/Molagu Varuthathu-Small chillies marinated in curd and fried to perfection to be eaten in between food morsels
15.Cucumber Raita/Vellarikya Pachadi: Pachadi means Raita.In Kerela this preparation from different kinds of vegetables or fruits mixed with Coconut gravy,mustard and green chillies.However in taste of Kerela we ate a South Indian cucumber pachadi.
16.Buttermilk-Here we had buttermilk to which a healthy dose of coriander was added
17.Banana chips/Upperi- A salty banana wafer made by frying raw banana in oil which synchronizes beautifully with rice meals
18.Jaggery coated sweet banana chips/Sharkara Varrati-A sweet version of banana chips coated with jaggery which difficult to resist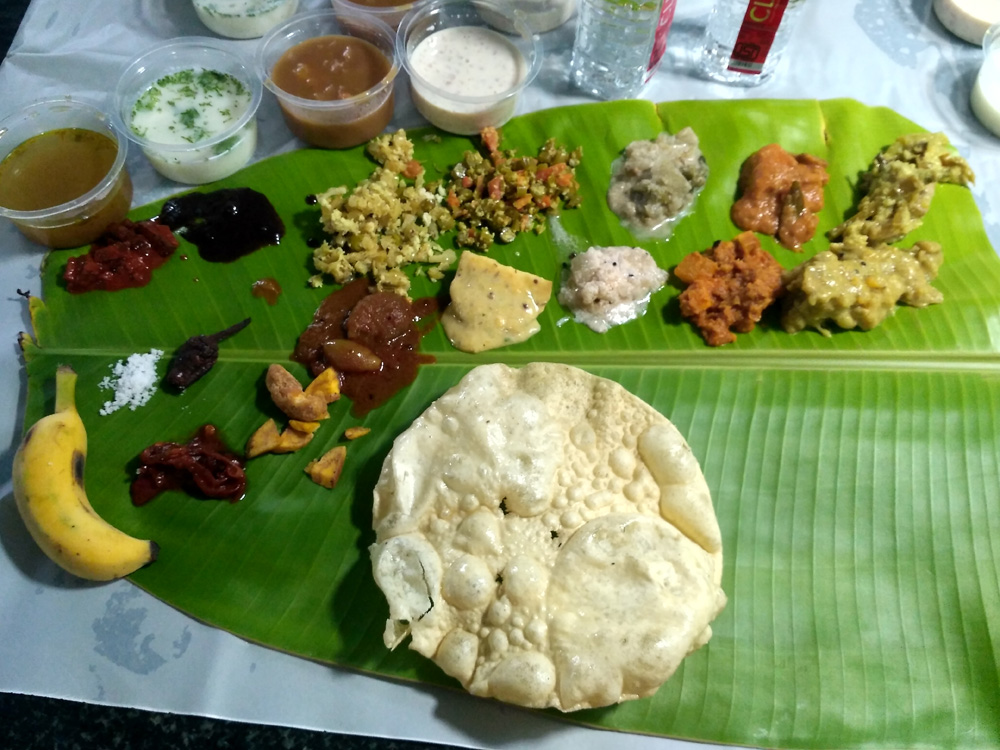 19.Banana/Poovam Pazham– Small elaichi banana which are sweet by nature and is as good as a dessert
20.Ada Pradhaman-The traditional dessert, payasam comes in many varieties and this one is made up of jaggery and is brown in color
21.Ari Payasam with Sago/White kheer- This payasam/Kheer is white and milk based made of sugar
22.Pappadum- Made up of rice most Malayalis simply love crushing this fried snack in rice and mixing it with curry and eating
23.Ghee/Neyy– Gives your food a much needed lift
24.Salt– Without which food is incomplete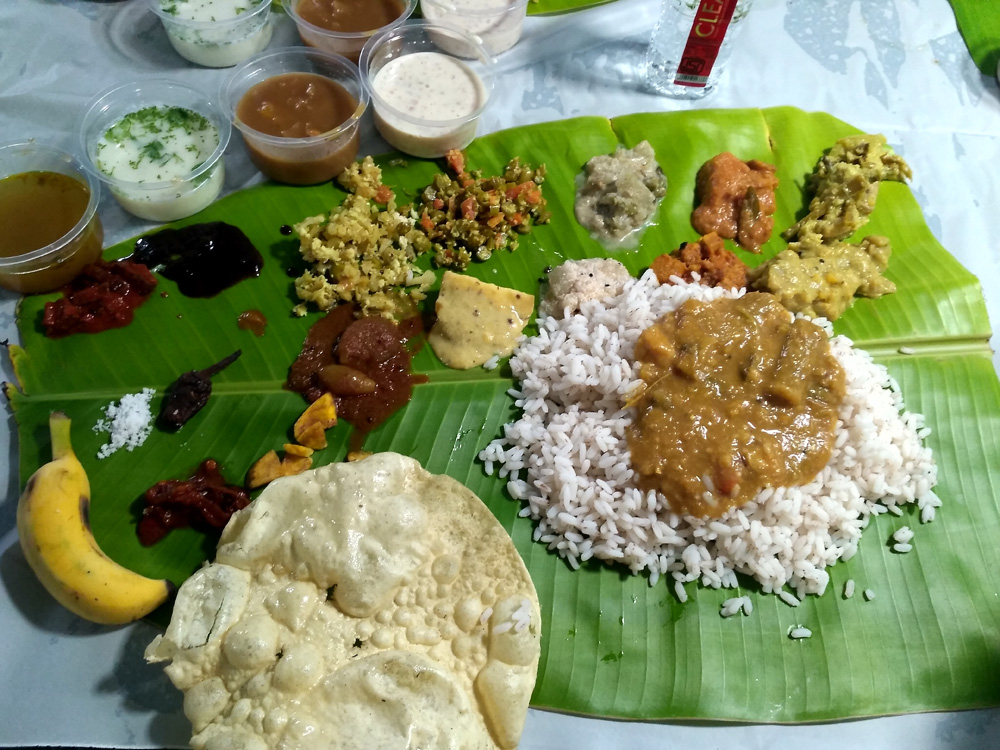 As a foodstylist for Kerala food TV ads,it was heartening to learn that there is a traditional way of arranging these dishes.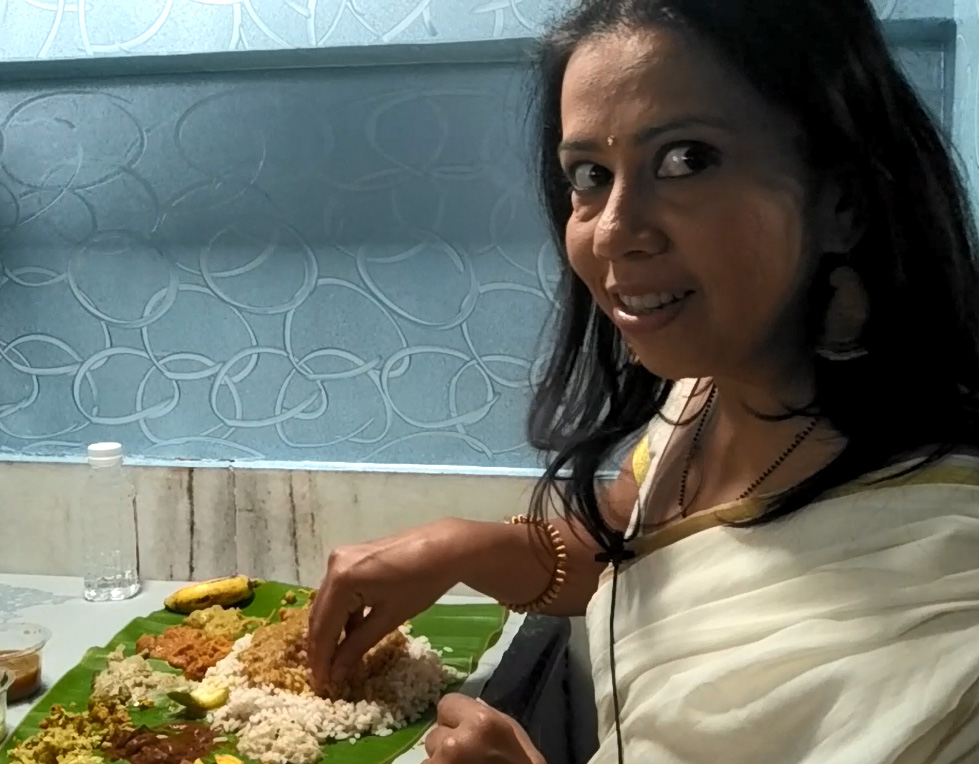 And finally once done with the meal we are to fold the plate towards us and not away from us.In case you fold it away from you it would signify your dislike for the meal.So go ahead enjoy your Sadhya.

Dear foodie,
Thanks for reading.Let me know any feedback,by commenting below.It would be an honor,to have you in my network.Feel free to connect with me if you're active on these networks.
Facebook , Twitter , Pinterest, Linkedin, Instagram ,Youtube , Google+ and Behance