Gudi Padwa Special Recipe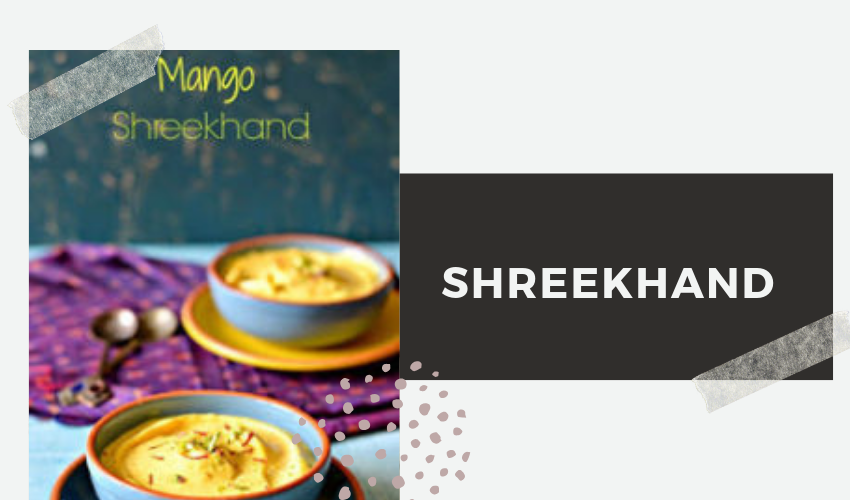 Mango Shrikhand
Our humble dessert is a great match for the Phirangi Greek Yoghurt!! Nothing beats it when the King of Fruits(Mango) lends it flavor :-))
​
It's a thick flavored curd mostly eaten amongst Maharashtrians with puris but one may just serve it all by itself in an eathern container
  

400 gms of unsweetened curd from any brand (I prefer Nestle A+ as its quite thick) tied in a muslin cloth and hung for 4-5 hours. After 4 hours its weight becomes around 127 gms as all water drains out of it

 

75 gms powdered sugar

90 gms mango puree

Generous pinch Elaichi powder. I used homemade elaichi powder

Few strands of Saffron soaked in lukewarm water for 10 minutes

Pistachio and Almonds for Garnish
Few strands of kesar soaked in lukewarm water for 10 minutes

Chopped pistachio with skin removed

Blanched and chopped almonds
  

4 hours for hanging curd followed by 5 minutes of final mixing plus refrigeratio
 

Take thick curd and hang it in a semi wet muslin cloth for 4-5 hours till all water in it is drained.This is imporatnt to give curd the thick texture

 

Meanwhile remove  mango puree from deep freezer and thaw the amount as mentioned in the recipe

Now whisk the hung curd and powdered sugar first then add puree,soaked saffron, elaichi powder and whisk again till everything mixed well. The Shrikhand is ready.

Chill in fridge for 2 hours and eat with hot puris. The Chilling part is very important as it helps the flavors to blend well.Plus curd always tastes better when cold

You may add a few fresh mango pieces on shrikhand before serving to make it more delicious!!!
Here's an interesting link on Why do we celebrate Guidi padwa ?
Wishing you a Happy Gudi Padwa