Media Coverage for Food stylist Payal in Thousand miles Magazine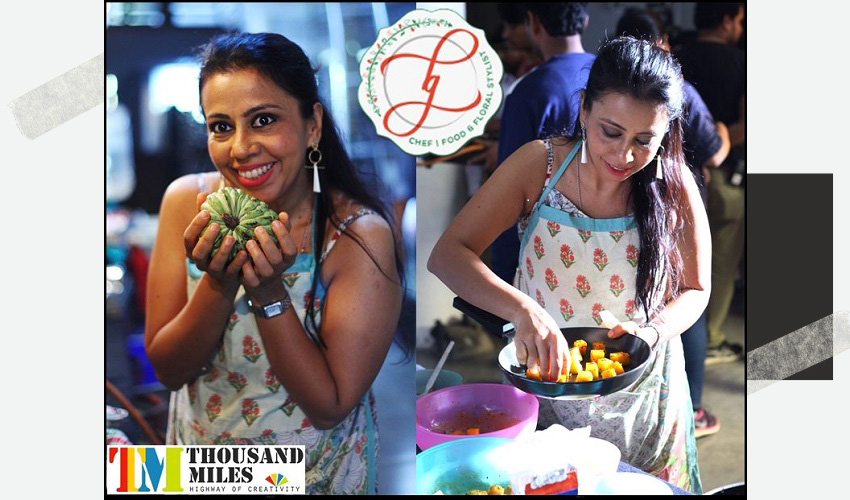 Payal Gupta is a chef, food stylist and floral stylist working out of Mumbai and her website www.chefpayalgupta.com is a Mumbai based company started by her 5 years back. This company was started to nurture her love for food and art post her stint in qualitative research.(GFK Mode, RK Swamy BBDO, and Quantum).
Gifted by the natural talent in her, Mrs. Gupta believed in her love and passion for food, led her to a beautiful destiny of yummy recipes and palatable dishes that she has been creating, making and designing all these years. She has worked with some of the greatest chefs and food stylists in the world and now she is creating her own space. You can read the exclusive interview here and go and visit her website which throws a horizon of whole new collection food recipes and food styling.
TM: What is the inspiration behind the entire idea of ChefPayalGupta.com?
Payal Gupta: The city of Kolkata where I was born and Chef Jiggs Kalra have been my inspiration to start www.chefpayalgupta.com. Kolkata is a city of art and it is a heaven for art lovers. Like other children of my age born in Kolkata I too had a very strong influence on art in my life there… Literature, dance, music, and books were regular playmates for me in Kolkata and reading was something I truly enjoyed.I was a 12 yr old kid when I happened to read a food column by Jiggs Kalra in a Sunday magazine called Graphiti published in Kolkata. This magazine came in as a supplement to the Telegraph newspaper each Sunday. What grabbed my attention in the magazine was the image of food alongside the recipe which made me want to read and explore the recipe. I realized how much a given food presentation could influence your choice to read something. From then on I started to wait each Sunday for the magazine to get a glimpse of new recipes. As time went by I started developing an interest in cooking food and presenting it artistically. To help me nurture my skills my mother sent me for cooking lessons to various chefs in Kolkata and I even went to an art school to nurture my artistic side. By the age of 17 yrs, I was already teaching people how to cook and was content in doing that. I never aspired to be a chef. For me being a chef back then meant merely making great food but not exercising your creative side and that was something I did not desire. Years went by and I finished BSc in Economics and I came to Mumbai in 2004 and started working as a qualitative researcher. I loved my job but by 2007 I was convinced that food was my true passion and I must work in a profession combining food and art. I took a sabbatical for 7 months and started looking for career options. One day I found food styling as a profession accidentally on Google. I read deeply about it and got convinced about pursuing it. I had finally found my life's mission. I then studied to be a chef and worked as an assistant to a food stylist for 2.5yrs. For the first few years of my career, I did freelance research, studied food in college and worked part-time as an assistant food stylist to make ends meet. Soon I realized that I was burning out and I needed to make clear decisions in life and follow a single path. I dropped my fears and then quit my job as an assistant stylist, stopped my research work and fully focused on food styling alone.This stage was a difficult financial stage one. It lasted me 2 years. Once I started getting more regular work I put together my savings and launched my company and that's how www.chefpayalgupta.com came into being. I always desired that I become my own brand so I named the company accordingly.

TM: Do you think 'The Inner Call' of a person is a real call that one should follow and chase his dream?
Payal Gupta: Inner calling is an internal understanding of your true desires.We as humans have a lot of external influences that work on our minds and we also tend to a mental conversation about our self and our life which prevents us from listening to yourself. So to understand full well that a particular career is our real calling is sometimes difficult. The only way to understand your real call is when you are ready to put everything at stake to achieve that thing you desire.
In my case when it came to me about making a choice between staying married to my ex-husband or embracing a new career as a food stylist I sat down and listened to my own self. At first, my mind chatter would not allow me to think but as and when the internal conversations stopped I could hear my inner calling to be a food artist. I realized at that moment I could just give up all that I had in life to pursue this new interest in my life.I took a leap of faith and chased my dream.10 years and I reached my goals
And yes your inner calling is your real calling and we must listen to it. It's what shall give you fulfillment in the long run but it comes with a price tag and lot of hard work and sacrifices.
TM: What did you learn at prestigious Le Cordon Bleu (Bangkok), Sophia College and IHM (Mumbai)?
Payal Gupta: Sophia's was my 1st culinary college in Mumbai. There I learnt how to bake cakes, cookies, puffs etc from scratch. The college was instrumental in making me approach baking confidently and induced in me a methodical approach towards work. By the end of the 6 months program there I was a confident home baker.
At IHM Mumbai I learnt about hot kitchen-both vegetarian and nonvegetarian. I come from a vegetarian family and had a mental block towards nonvegetarian food. IHM Mumbai beautifully removed it and made me relate to both vegetarian and nonvegetarian as merely food with no categorization. This place was thus instrumental in opening up my mind towards food, Le Cordon Bleu, Bangkok has been a very special chapter of my life. I learnt about the importance of choosing the right ingredients for baking, the art of presenting food, time management at work, ability to perform under stress, hygiene at work and about choosing the right machinery/equipment for work.I was exposed to global standards in food and my appreciation for food grew here.I worked as an apprentice in the kitchen there during my off time and there too I learnt back end kitchen management.
TM: How was the experience while training under international Pastry champion, Eric Perez?
Payal Gupta: Eric is nothing short of a wonder. I am totally smitten by his way of work, simplicity as a human and his passion for food. I am yet to come across another chef who would impart knowledge to students as if he was handling them a treasure. I learnt restaurant dessert and chocolate making under him. During both my courses he was patient, imparted amazing info about the course and answered all my queries. I learnt the art of excellence at work from him.I am a great admirer of him.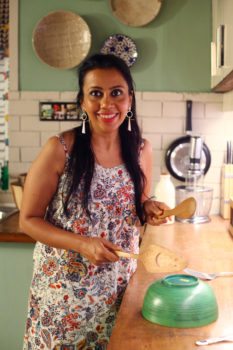 TM: Tell us about your work experience at Taj Vivanta, Bangalore.? What leads you to join this workshop?
Payal Gupta: I did a bread workshop In Taj Vivanta Bangalore on behalf of my company Swissbake(selling bread mixes) Vivanta wanted to try our company products and to showcase my company bread range I went there for a demo Chef Selvaraj the Executive chef back then was a very helpful and courteous man.He made sure that everything was available for me to work in the kitchen and that I got a great support team as well to work in the kitchen. It was my very first bread workshop as till that time I had only handled pastry. It boosted my confidence in the area of bread making and helped me add value to my culinary knowledge. Please note that bread making and pastry are diverse arts.. it's not essential that a good pastry chef can be a good Baker and vice versa. I would like to thank Taj Vivanta for having given me a wonderful experience at that property.
TM: You are also a certified floral designer. How did you fall in interest for the floral designing?
Payal Gupta: I developed an interest in floral designing accidentally when I was studying in Le Cordon Bleu, Bangkok.
During my studies in Bangkok, I was staying in an apartment housing the Japanese temple ( I have been praying at the Japanese temple in India for the last 7 years). The leader of the Japanese temple requested me to help him put up flowers neatly in front of the shrine once a week since I was staying there. So my floral work initially just started as a way to help my leader.However during the course of my stay In Bangkok and subsequent floral arrangements I observed a Thai gentleman who artistically did flowers once a week in the same temple.Each time I would see him work I would be spellbound and my heart just desired a way to learn the art of floral arrangement.This thought stayed with me all the while I was in Bangkok and I promised myself to learn this craft sometime in life if an opportunity came by.
As destiny had it I completed my studies as a chef and came back to Mumbai in July 2012.Once back a friend introduced IFD (Institute of Floral Designing)course to me.I met the faculty and decided to do the Floral diploma course in 2013.And this marked the beginning of my floral journey.
However, it's only during a shoot with Mahendra Singh Dhoni that I realized that food and floral styling could be combined and offered together for shoots.Since then I have been using my floral styling with food styling whenever there is an opportunity to do so on sets.

TM: How was the feeling when Shahrukh Khan and Deepika Padukone happened to taste your recipes?
Payal Gupta: I would like to correct this statement a bit.None tasted my recipe but both were in awe of the beautiful food. They complimented me on the beauty of the food and the effort I put behind it. Shahrukh Khan has an amazing charm when it comes to giving compliments to people and I too witnessed the same when he spoke to me. Deepika was like a lively teenager on sets eager to taste food but was careful of her eating due to her shot timings. But the very fact that they noticed my work and complimented me was gratifying.
Source: www.thousandmilessite.in
Link: https://thousandmilessite.in/an-interview-with-chef-payal-gupta/