Gazar Halwa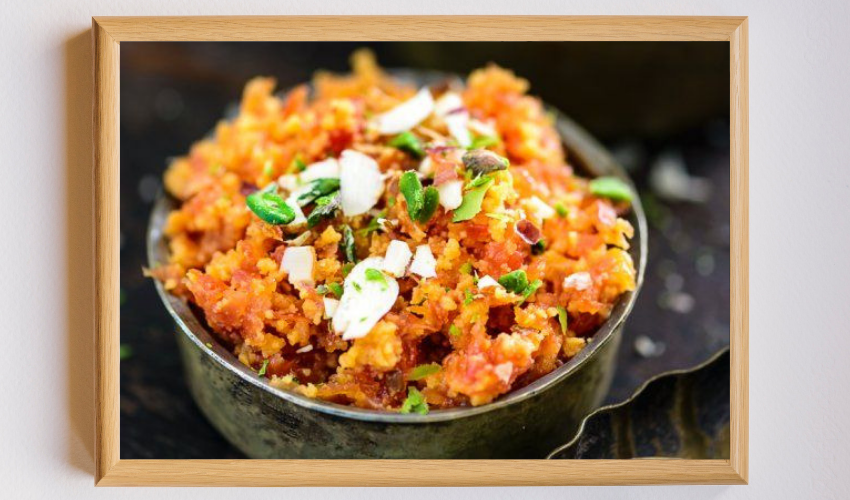 It's an Indian dessert made out of carrots. The best time to eat this is winter when the juicy red carrots are in season. Though it's very famous dessert amongst North Indians now it enjoys popularity across India.
As the winters have gone but red carrots are still seen around and Baisakhi is around the corner just jump and make this dish.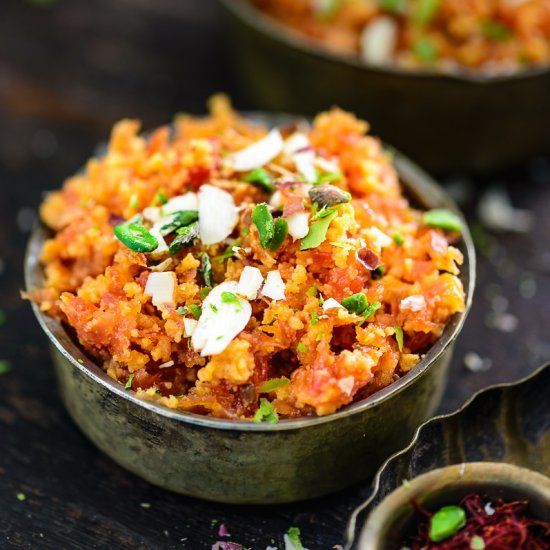 Picture source-Neha at whisk affair/Foodgawker.com
Ingredients for cooking
500 gms raw red carrot with skin. Once we peel it and remove the top the weight will be around 400 gms
50 gms ghee
500 ml full fat milk
100 gms mawa
110 gms sugar
3 gms Elaichi powder
Few strands of Saffron soaked in milk(Optional)
Ingredients for garnish
7-8 pistachios blanched and chopped
4-5 almonds blanched and chopped
3-4 cashewnuts(Optional)
8-10 raisins(Optional)
Cooking time
Serves
Serving idea
Serve in an ornate bowl topped with nuts or in small ceramic spoon for a single serving
Method
Grate the carrot and keep aside
Heat milk in a pan and keep it aside too
Heat ghee in a pan and then add the grated carrot and cook on medium flame for 8-10 minutes till the carrots soften and its color becomes a bit pale. This is an indication that the carrots have become soft.
At this stage add the hot milk to the grated carrot and cook on medium flame for 20-25 minutes till all the milk is soaked into the carrots. Incase you are adding saffron add at this stage.
Once the milk is soaked in the carrot, grate the mawa and add it to the carrot and milk mixture and cook for 2-3 minutes till it mixes well
Once the mawa is assimilated in the carrot mixture add sugar and cook for 3-4 minutes till sugar dissolves
Lastly add Elaichi powder and serve with chopped almonds and pistachios. You may add cashew and raisins too if you want.
Important notes
It is a rich dish so if you wish to make it lighter/healthier remove mawa and add 1 litre toned milk instead of full fat milk. Rest all will be same.
This dish cannot be made with orange carrot as they are not so juicy, sweet and tender as compared to red carrot so even if you make it the resulting halwa will lack the right sweetness and moisture